Fairfax County began its third phase of reopening on July 1. For the Animal Shelter, there are no major changes to the way we have been operating. The Shelter is still closed to walk-in visitors, and services are by advance appointment only. The follow program operating information is in place until further notice.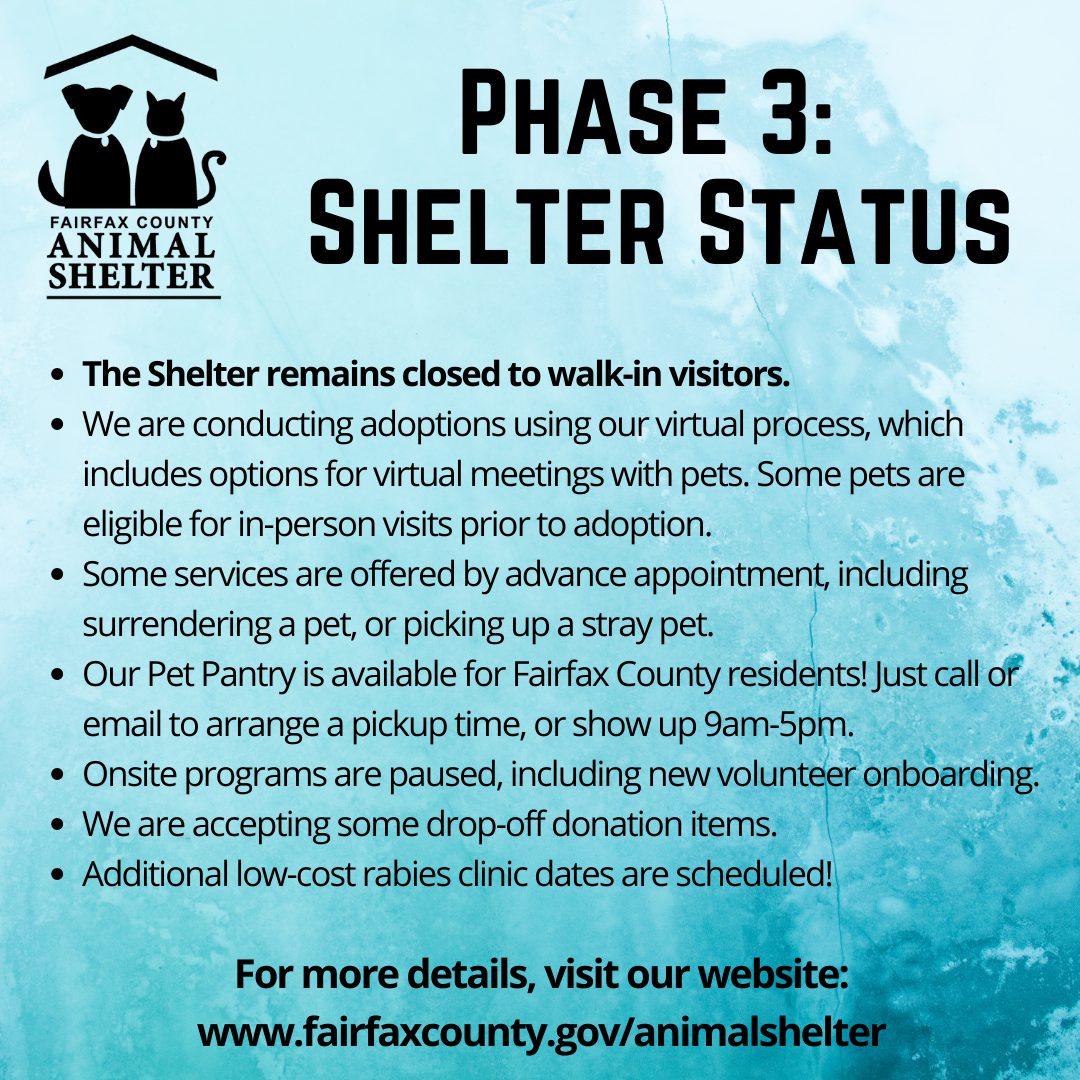 2021 Dog Licenses
In-person dog license sales at the Animal Shelter have ended. Visit the Department of Tax Administration webpage for other options on how to renew or purchase a dog license: www.fairfaxcounty.gov/taxes/dog-license-information 
Virtual adoption process!
Our virtual adoption process is working great, and has allowed us to continue our adoption program while keeping the health of our staff and the community in mind. For full details and instructions: www.fairfaxcounty.gov/animalshelter/adopt/steps
Essential services by advance appointment only:
Return-to-owner of stray pets: If your pet is at the Shelter as a stray, email or call to make an appointment to reclaim them. Email – animalshelter@fairfaxcounty.gov – is preferred due to the expected high volume.

If you find a stray dog in Fairfax County, you have two options. You may call Animal Protection (703-691-2131) to pick the dog up, or you may hold on to the dog (if you do this option, you must file a found report).
If you see a stray cat, please visit this webpage for more info: www.fairfaxcounty.gov/animalshelter/catintake
Dog and cat food pet pantry: If you are a Fairfax County resident facing financial hardship and are in need of dog or cat food (canned and/or dry) to help care for your pet(s) during this difficult and challenging time, please call or email us; the Shelter has a supply of these items available. Call (703-830-1100) or email (animalshelter@fairfaxcounty.gov) to arrange a time for pickup.
Donations accepted:
We are currently accepting a few specific items as donations:

Unopened and unexpired dry and canned pet food
Opened but unexpired dry pet food (for wildlife rescue partners)
Fleece blankets - purchased or homemade!
Towels - bath and hand towels, no washcloths
Newspaper
Pet carriers and crates - clean and in good condition
New pet beds, collars, leashes, toys

Items we cannot accept nor use:

Bedding, including: sheets, comforters, pillows, cushions
Heavily used, dirty, or ripped/torn items
Used litter boxes
Homemade dog or cat treats 
Prescription medications

Accepted items may be dropped off at the Shelter and left in the blue bin near the front doors, between 9:30am and 4:30pm daily, no appointment needed. Please do not leave any other items outside our doors; it is thrown away, and due to the ongoing pandemic we are avoiding handling excess items. If you have any questions about accepted items for donation, please email (animalshelter@fairfaxcounty.gov) or call (703-830-1100) to ask!
For more info: www.fairfaxcounty.gov/animalshelter/donate 
Paused programs and services:
Volunteer program – we have paused the onboarding for our in-house volunteer program
Shelter Tours and Reading Tails
All Scout programming
Workshops, group meetings, events
Rabbit spay/neuter – we are still able to spay/neuter many rabbits before adoption, however due to schedule availability some rabbit adopters will be given a voucher to be used at a later date.
If you have any questions about the changes in Shelter programs and services, please email us at animalshelter@fairfaxcounty.gov. We will be doing our best to respond in a timely manner. We thank you for your patience as we navigate this situation while balancing the needs of the shelter pets in our care with the health and safety of our staff, volunteers, and community.
If you have an animal-related emergency, such as ill/injured wildlife, a stray dog, or potential abuse or neglect, please contact Animal Protection at 703-691-2131. For more info: www.fairfaxcounty.gov/police/specializedunits/animalprotectionpolice