Fairfax County began its third phase of reopening on July 1. For the Animal Shelter, there are no major changes to the way we have been operating. The Shelter is still closed to walk-in visitors. The follow service are program operating information is still in place until further notice.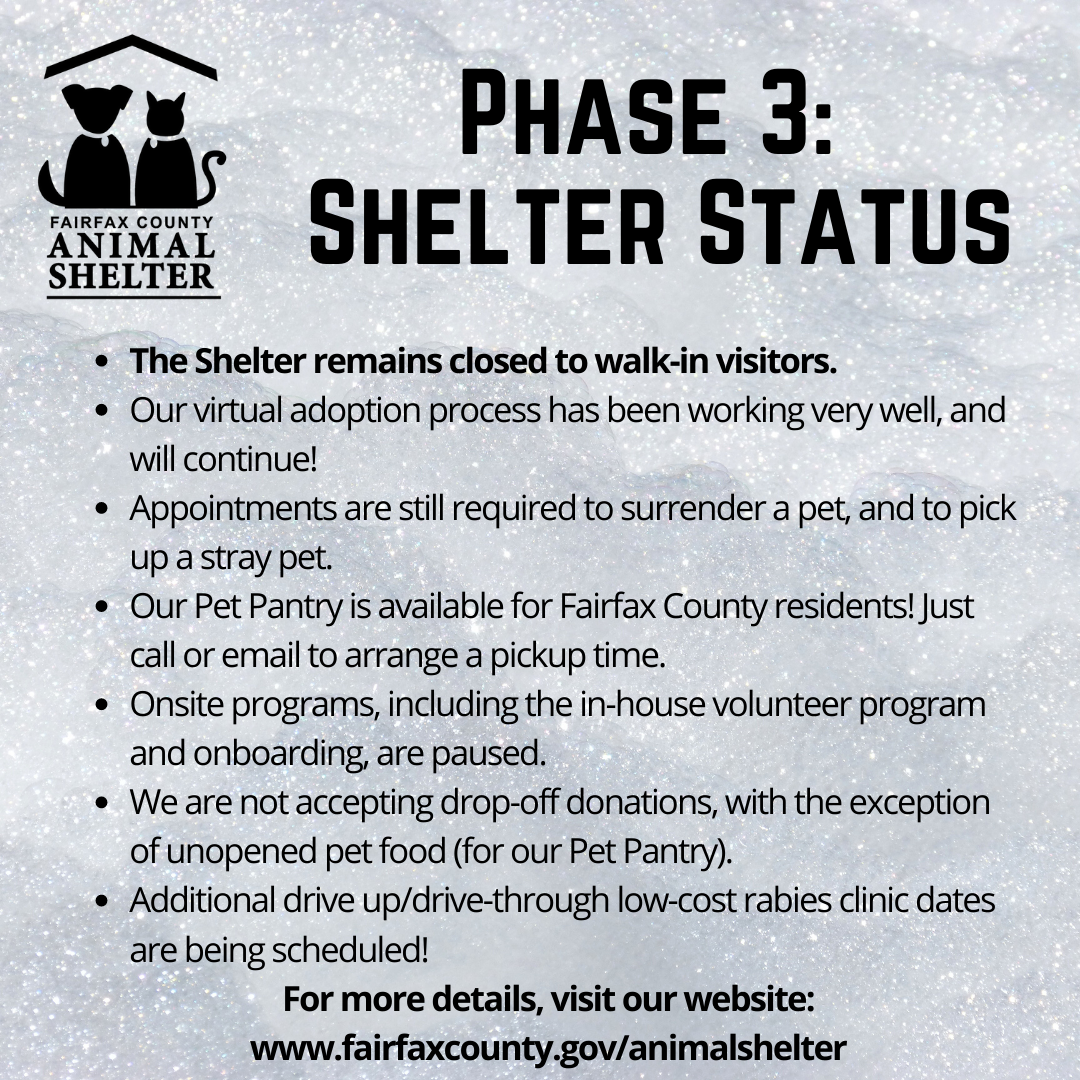 Virtual adoption process!
Our virtual adoption process is working great, and has allowed us to continue our adoption program while keeping the health of our staff and the community in mind. For full details and instructions: www.fairfaxcounty.gov/animalshelter/adopt/steps
Essential services by appointment only:
Return-to-owner of stray pets: If your pet is at the Shelter as a stray, email or call to make an appointment to reclaim them. Email – animalshelter@fairfaxcounty.gov – is preferred due to the expected high volume.

If you find a stray dog in Fairfax County, you have two options. You may call Animal Protection (703-691-2131) to pick the dog up, or you may hold on to the dog (if you do this option, you must file a found report).
If you see a stray cat, please visit this webpage for more info: www.fairfaxcounty.gov/animalshelter/catintake

Pet surrenders: If you are at all able to delay surrendering a pet at this time, please do. We are accepting owner-surrendered pets from Fairfax County residents, by appointment only. If you need to surrender your pet, please email or call to make an appointment. Email is preferred: animalshelter@fairfaxcounty.gov. For more info, visit:  www.fairfaxcounty.gov/animalshelter/surrenderingyourpet
Dog and cat food pet pantry: If you are a Fairfax County resident facing financial hardship and are in need of dog or cat food (canned and/or dry) to help care for your pet(s) during this difficult and challenging time, please call or email us; the Shelter has a supply of these items available. Call (703-830-1100) or email (animalshelter@fairfaxcounty.gov) to arrange a time for pickup.
Paused programs and services:
Volunteer program – for the safety of our volunteers and our staff, we have paused the in-house volunteer program and no one except staff will be allowed in the building.
Donations – no donations will be accepted at the Shelter. Please do not leave items outside the Shelter doors. However, our operations continue and if you would like to support us please visit our donations webpage for remote options! www.fairfaxcounty.gov/animalshelter/donate
Shelter Tours and Reading Tails
Workshops, group meetings, events
Rabbit spay/neuter – rabbit adopters will be given a voucher to be used at a later date
Dog licenses – no dog licenses will be sold at the Shelter. Please visit the Department of Tax Administration webpage for options on how to purchase a dog license: www.fairfaxcounty.gov/taxes/dog-license-information 
Cancelled programs and services:
April 5 low-cost rabies clinic
May 3 low-cost rabies clinic
June 7 low-cost rabies clinic
We will be moving many of our shelter pets into foster homes. Those pets who remain for various reasons will be, of course, cared for and loved by our amazing and hardworking shelter staff. We will post updates and share stories as usual on our social media!
If you have any questions about the changes in Shelter programs and services, please email us at animalshelter@fairfaxcounty.gov. We will be doing our best to respond in a timely manner. We thank you for your patience as we navigate this situation while balancing the needs of the shelter pets in our care with the health and safety of our staff, volunteers, and community.
If you have an animal-related emergency, such as ill/injured wildlife, a stray dog, or potential abuse or neglect, please contact Animal Protection at 703-691-2131. For more info: www.fairfaxcounty.gov/police/specializedunits/animalprotectionpolice