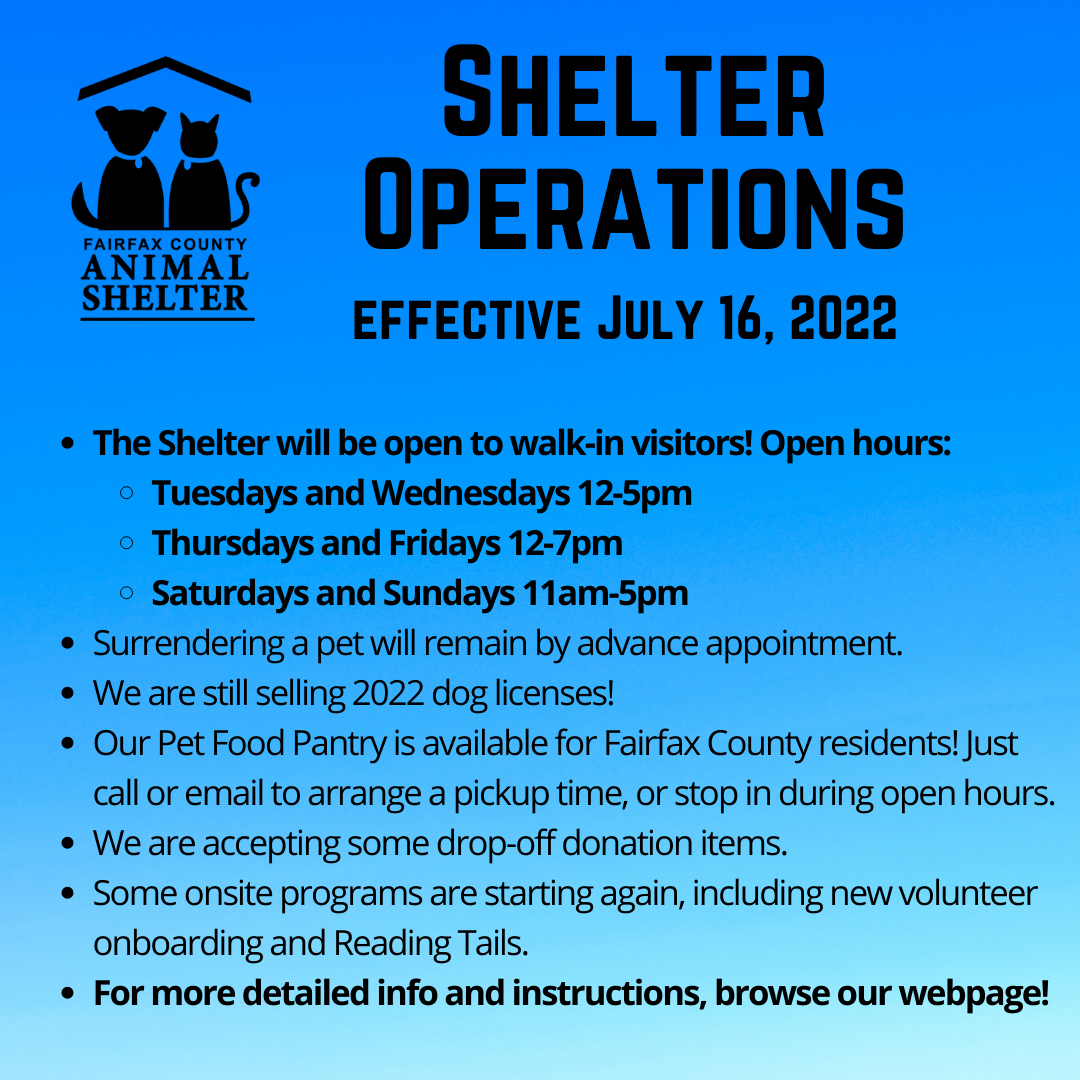 The Shelter is opening its doors! Effective Saturday July 16, the Shelter will be open for adoptions on a walk-in basis.
Additional walk-in services: 
Return-to-owner of stray pets: If your pet is at the Shelter as a stray, you may walk in during open hours to reclaim them. You may also email or call in advance if you wish. 

If you find a stray dog in Fairfax County, you have two options. You may call Animal Protection (703-691-2131) to pick the dog up, or you may hold on to the dog (if you do this option, you must file a found report).
If you see a stray cat, please visit this webpage for more info: www.fairfaxcounty.gov/animalshelter/catintake

2022 Dog License sales: Residents who need to purchase a 2022 Fairfax County dog license may come to the Shelter and do so. Please bring your dog's current rabies vaccination certificate. (Dog licenses may also be purchased in-person at the Department of Tax Administration: www.fairfaxcounty.gov/taxes/dog-license-information)
Dog and cat food pet pantry: If you are a Fairfax County resident facing financial hardship and are in need of dog or cat food (canned and/or dry) to help care for your pet(s) during this difficult and challenging time, please stop in during open hours. You may also call or email us in advance. 
Donations: We are now accepting a very limited number of items as donations. If it's not on the list on our donations page, please do not leave it at the shelter; we simply don't have any more storage space, or we cannot use the donated items, and we're having to throw things in the dumpster which we'd like to avoid! For more info: www.fairfaxcounty.gov/animalshelter/donate
Some services remain by advance appointment only:
Pet surrenders: We are accepting owner-surrendered pets from Fairfax County residents, by appointment only. If you need to surrender your pet, please email or call to make an appointment. Email is preferred: animalshelter@fairfaxcounty.gov. For more info, visit:  www.fairfaxcounty.gov/animalshelter/surrenderingyourpet
Low-cost rabies vaccination clinics: 2022 dates are posted! Registration for each clinic opens one month in advance. Dates and details:
Programs reopening:
Volunteer program – we are slowly reopening volunteer onboarding and are starting with three critical areas: dog walking, small animal assistants, and Clean Team (dishes and laundry!). If you are interested in any of those three areas, please email us at animalshelter@fairfaxcounty.gov.
Reading Tails program
Workshops and events
If you have any questions about Shelter programs and services, please email us at animalshelter@fairfaxcounty.gov. We will be doing our best to respond in a timely manner. We thank you for your patience as we continue to navigate this ever-changing situation while balancing the needs of the shelter pets in our care with the health and safety of our staff, volunteers, and community.
If you have an animal-related emergency, such as ill/injured wildlife, a stray dog, or potential abuse or neglect, please contact Animal Protection at 703-691-2131. For more info: www.fairfaxcounty.gov/police/specializedunits/animalprotectionpolice