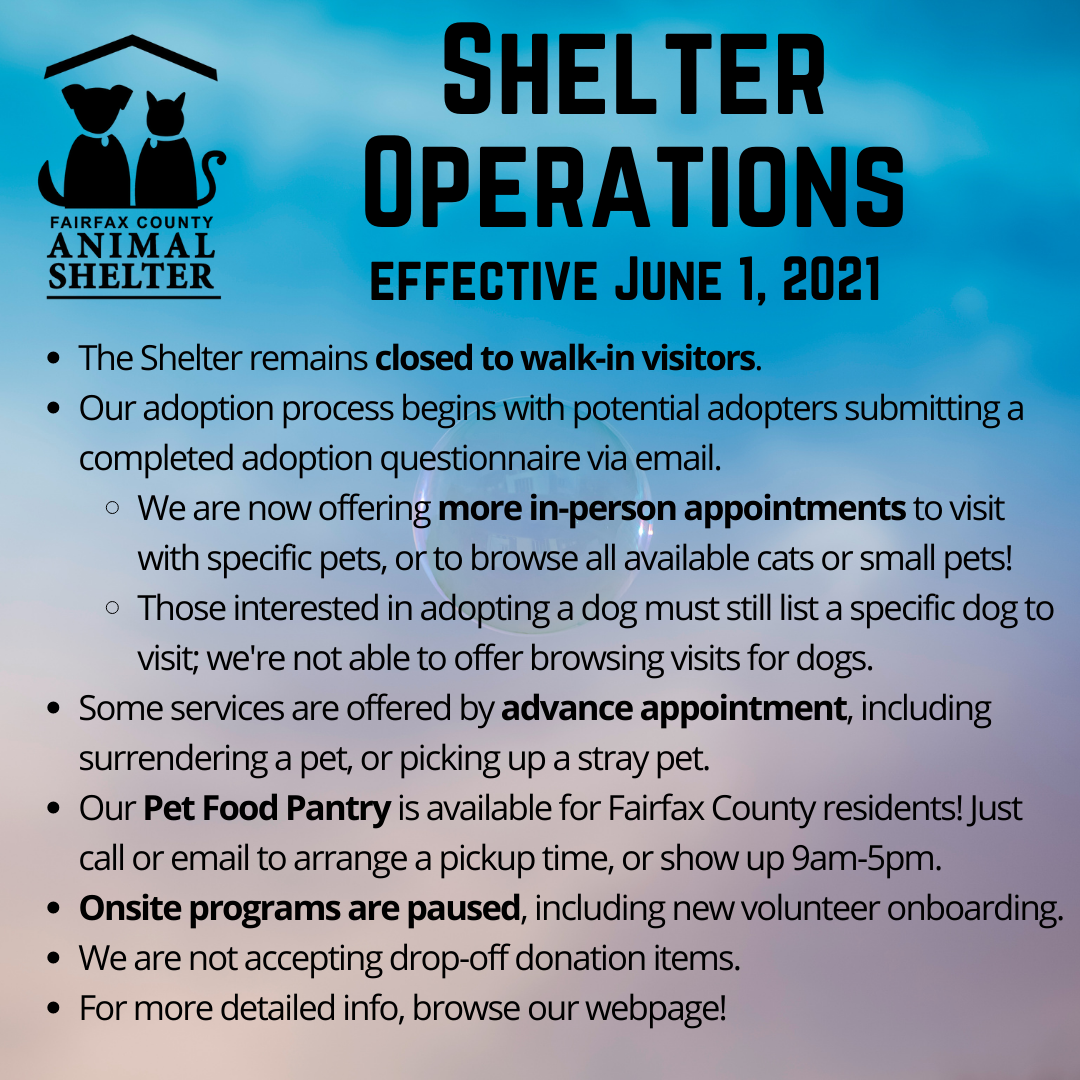 2021 Dog License Sales at Shelter - RESUMING JULY 1!
In-person dog license sales at the Shelter have resumed! Effective July 1, residents who need to purchase a County dog license may come to the Shelter and ring the doorbell at the main doors for assistance. 
Virtual adoption process, now with expanded in-person appointments to visit pets pre-adoption!
Now that vaccines are more widely available, we are pleased to begin offering increased in-person access to the Animal Shelter! We will not be open for unscheduled walk-in visits, though we are excited to begin offering more in-person visit appointments for potential adopters who wish to meet a specific pet, or who wish to browse available pets of some species. For full details and instructions: www.fairfaxcounty.gov/animalshelter/adopt/steps
Essential services by advance appointment only:
Return-to-owner of stray pets: If your pet is at the Shelter as a stray, email or call to make an appointment to reclaim them. Email – animalshelter@fairfaxcounty.gov – is preferred due to the expected high volume.

If you find a stray dog in Fairfax County, you have two options. You may call Animal Protection (703-691-2131) to pick the dog up, or you may hold on to the dog (if you do this option, you must file a found report).
If you see a stray cat, please visit this webpage for more info: www.fairfaxcounty.gov/animalshelter/catintake
Dog and cat food pet pantry: If you are a Fairfax County resident facing financial hardship and are in need of dog or cat food (canned and/or dry) to help care for your pet(s) during this difficult and challenging time, please call or email us; the Shelter has a supply of these items available. Call (703-830-1100) or email (animalshelter@fairfaxcounty.gov) to arrange a time for pickup.
Donations accepted:
Due to the overwhelming influx of items being donated at the Shelter, we are now no longer accepting any items for donation, with a few exceptions. We simply don't have any more storage space, or we cannot use the donated items, and we're having to throw things in the dumpster which we'd like to avoid! Below are the only items we are currently able to accept:

Unopened and unexpired dry pet food, and unexpired canned pet food
Opened unexpired dry pet food - to pass along to our wildlife rescue partners
Items from our Amazon wish list: www.amazon.com/gp/registry/wishlist/96AEL1WS4QHR/
Monetary donations are always very much appreciated and should be directed to the Friends of the Fairfax County Animal Shelter: www.ffcas.org 

Please do not leave any other items outside our doors; they are thrown away. :( 

Accepted items may be dropped off at the Shelter and left in the blue bin near the front doors, between 9:30am and 4:30pm daily, no appointment needed. Please do not leave any other items outside our doors; it is thrown away, and due to the ongoing pandemic we are avoiding handling excess items. If you have any questions about accepted items for donation, please email (animalshelter@fairfaxcounty.gov) or call (703-830-1100) to ask!
For more info: www.fairfaxcounty.gov/animalshelter/donate 
Paused programs and services:
Volunteer program – we have paused the onboarding for our in-house volunteer program
Shelter Tours and Reading Tails
All Scout programming
Workshops, group meetings, events
If you have any questions about the changes in Shelter programs and services, please email us at animalshelter@fairfaxcounty.gov. We will be doing our best to respond in a timely manner. We thank you for your patience as we continue to navigate this ever-changing situation while balancing the needs of the shelter pets in our care with the health and safety of our staff, volunteers, and community.
If you have an animal-related emergency, such as ill/injured wildlife, a stray dog, or potential abuse or neglect, please contact Animal Protection at 703-691-2131. For more info: www.fairfaxcounty.gov/police/specializedunits/animalprotectionpolice