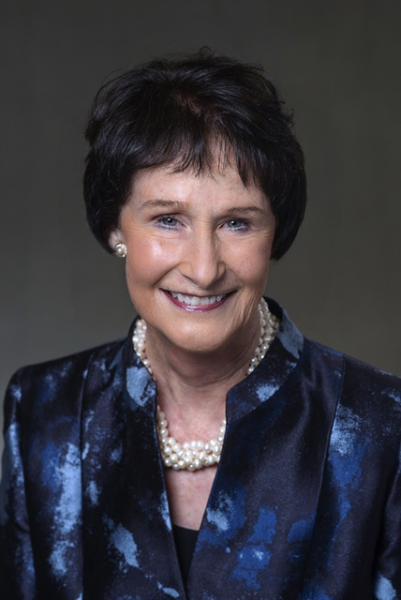 Sharon Bulova is honored to serve her third term as Chairman of the Fairfax County Board of Supervisors. She was first elected Chairman in a special election in 2009, and previously served as the Braddock District Supervisor from 1988-2009. Sharon believes an informed and engaged community is a well-served constituency. It is important that the community has a place at the table when decisions are being made. Community engagement is essential to striking the right balance between keeping taxes affordable and protecting the quality of life and services we value. A Northern Virginia resident since 1966, Sharon lives in Fairfax with her husband Lou DeFalaise. Together, they have four adult children and seven grandchildren.
Priorities
Completing Phase II of the Silver Line to Dulles Airport and expanding the availability of travel options including bus, sidewalks, trails and bike facilities
Transforming older commercial/industrial areas into vibrant, mixed-use, transit-friendly communities, offering more lifestyle choices for residents of all ages and abilities
Attracting jobs and fostering the growth of exciting new industry sectors
Investing in Fairfax County's top-tier education system
Supporting county services such as parks, libraries and public safety to ensure Fairfax County continues to be the safest community of our size in the U.S. with an excellent quality of life for our residents
Improving policing to ensure best practices for critical incident response, transparency in communications, and release of information
Continuing progress with Diversion First
Supporting our 50+ population and helping residents grow older comfortably in Fairfax County
Addressing Fairfax County's workforce housing needs
Meeting the goals laid out in Fairfax County's Ten Year Plan to Prevent and End Homelessness
Continuing to navigate the worst economic downturn in this country since the Great Depression with Fairfax County's triple AAA bond rating intact, while successfully protecting the quality of life we value and rely upon
Regionalism
Under Chairman Bulova's leadership, Fairfax County has been a collaborative leader among neighboring jurisdictions in the Washington D.C. Metropolitan Region. Fairfax County residents work and travel throughout the entire region. Promoting open communication and positive relationships among neighboring cities, towns and counties is important to the continued success of Northern Virginia.
Chair of MWCOG's Metro Strategy Group
Chair of MWCOG's Greater Washington 2050 Coalition, resulting in the adoption of the Region Forward Regional Compact
Member and past chairman of the Northern Virginia Regional Commission (NVRC)
Co-founder of the Virginia Railway Express Commuter Rail System
Fairfax County Representative on the Northern Virginia Transportation Authority (NVTA)
Collaborator with many elected officials in the region to bring Metro to Tysons and Reston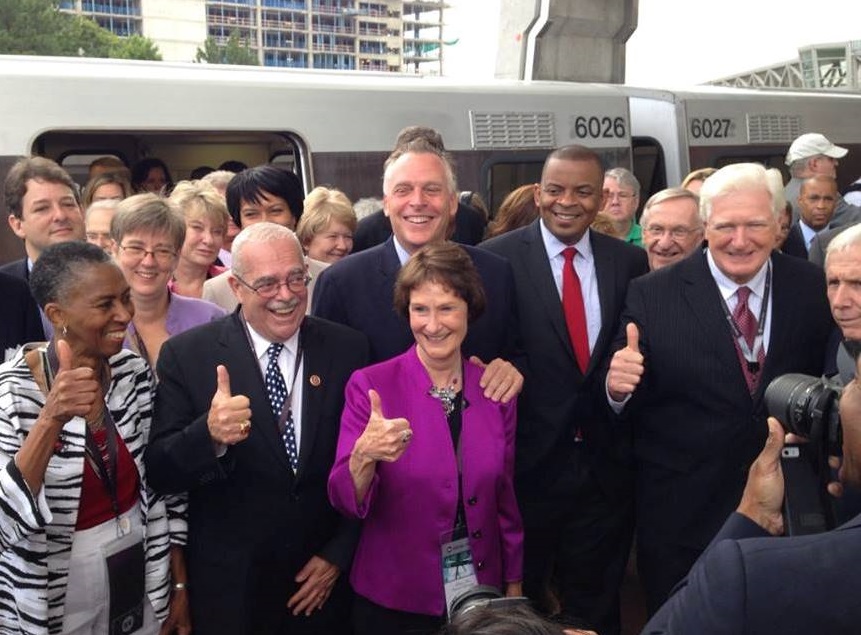 One of the highlights of Sharon's work as Chairman was cutting the ribbon for Metro's Silver Line on July 26, 2014. Sharon played an integral role in extending Metro to Tysons and Reston alongside many dedicated leaders over a period of decades. Chairman Bulova and her colleagues successfully obtained the largest Transportation Infrastructure Finance and Innovation Act (TIFIA) loan ever issued by the federal government to help fund this transformative regional project. Phase I of the Silver Line is officially open, with Phase II currently underway.
Leadership & Service
Founder of Faith Communities in Action
Created the Communities of Trust Committee, Chaired by Shirley Ginwright
Established the Ad Hoc Police Practices Review Commission
Member of the VRE Operations Board
Member of Fairfax County's Governing Board to Prevent and End Homelessness
Received the Council of Government's Elizabeth & David Scull Metropolitan Public Service Award in 2009
Received the Virginia Transit Association's Local Public Official of the Year Award in 2012
Received the Center for Non-Profit Advancement's Phyllis Campbell Newsome Public Policy Leadership Award in 2013
Received ATFA's Lifetime Achievement Award in 2014
Received the Workhouse Arts Foundation Founder's Award in 2015
Washingtonian Magazine has named Chairman Bulova one of the Most Powerful Women in the Metropolitan Washington Area
Community Projects
Community engagement is what local government is all about. Chairman Bulova enjoys hosting community budget dialogues, spearheading history initiatives, working with the Park Authority to offer summer concerts, and supporting local events. In 2005, Sharon launched an initiative to capture and tell the history of the Braddock District area. "A Look Back at Braddock" resulted in the publication of the book Braddock's True Gold and braddockheritage.org. Sharon also organized a task force that compiled the experiences of Asian Americans who have made Fairfax County their home. This effort resulted in the book The Fairfax County Asian American History Project.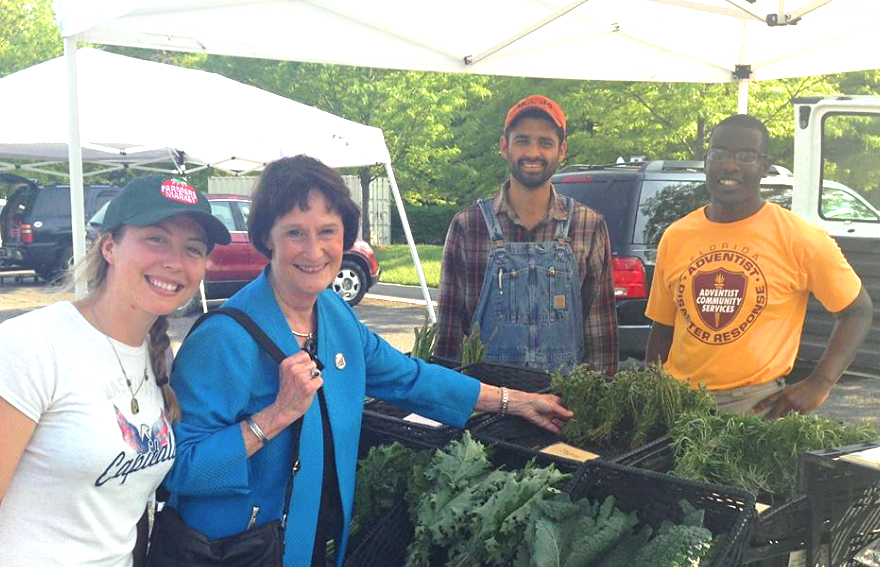 As Braddock District Supervisor, Chairman Bulova founded Braddock Nights, a program of free summer night concerts in Braddock District parks. She now hosts Evenings on the Ellipse at the Fairfax County Government Center each summer. Chairman Bulova also helped launch a seasonal farmers market at the Fairfax County Government Center with local vendors and food trucks.
Connect
Subscribe to the Bulova Byline for monthly updates, including local news and upcoming events!