The Chairman's Office is not currently seeking interns for 2019. Feel free to check with other members of the Fairfax County Board of Supervisors for internship opportunities. Thank you for your interest!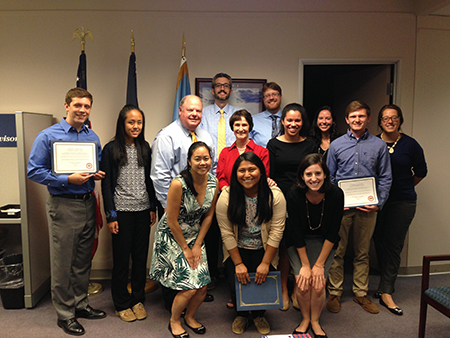 Testimonials:
"This internship gave me a great opportunity to learn about different functions of the county. Rather than getting an internship where I could learn about one job, this internship gave me a broad overview of a variety of jobs in the county. I now have a better sense of the career path I want to forge. This internship focuses on training and teaching interns, so you get the most out of your experience." - Cathleen W.
"I gained so much invaluable experience during my internship in Chairman Bulova's office. The Chairman and her staff are some of the friendliest, most knowledgeable and dedicated people I have met – there was never a day I didn't learn something new from them, and they always made me laugh. The opportunity to attend board meetings, research issues and respond to constituents of Fairfax County really gave me a detailed perspective on how important local government really is. I recommend anyone interested in government and public policy to apply for this internship!" - Ben C.
"This internship is great. The Chairman's staff genuinely try to find opportunities for interns to learn about what interests them. I recommend interning there to anyone looking to get some experience in public service." - Samuel D.
"This internship program was a great way to get an inside look at the workings of local government.  You really have the chance to see real-life policy issues in action while developing personal, technical, and professional skills.  I would recommend this internship to any student interested in public policy and the intersection of governance and constituent relations." - Joshua O.
"I've learned so much more about local government from this internship than I have from my government classes." – Anastasia R.