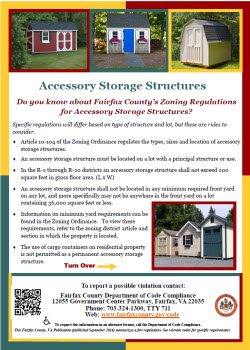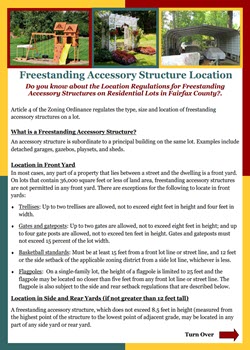 Article 10-100 of the Zoning Ordinance regulates Accessory Uses and Structures, to include allowable accessory uses, permitted accessory structures, and location requirements for accessory structures. The two general categories of accessory structures most frequently dealt with by DCC are Freestanding Accessory Structures and Accessory Storage Structures.
Freestanding Accessory Structures are defined as any decorative and/or functional structure that is subordinate to, customarily found in association with, and is located on the same lot as a principal use (such as a dwelling unit). Freestanding accessory structures can include trellises, gates and gate posts, basketball standards, solid waste and recycling containers, fences and walls, flagpoles, signs, antennae structures, sheds, and more, as described in Article 10-102.
Accessory Storage Structures are generally defined as any building used to store goods and materials owned by the occupant of the principal building or use of the property.