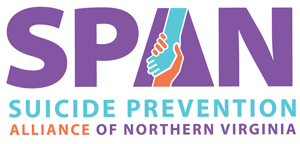 Do you know how to tell if someone may be at risk for suicide? Do you know what to do if someone you know needs help?
If you or someone you care about may be at risk of suicide, don't hesitate to reach out for help. These resources are available 24/7 for residents of Fairfax County and the cities of Fairfax and Falls Church:
Suicidal thoughts can affect anyone regardless of age, gender or background; suicide is the third leading cause of death among young people in Virginia, as well as across the United States. The most recent Fairfax youth survey found that local youth in 10th and 12th grades are at significantly higher risk for depression and suicide ideation than their peers in other parts of Virginia. The national Substance Abuse and Mental Health Services Administration (SAMHSA) reports that one suicide occurs every 13 minutes in the U.S.; nearly 40,000 people per year.
Take some time this month to learn more about the issue and what YOU can do to prevent suicide.
Below are some suicide prevention resources and awareness events in our community offered by the Fairfax-Falls Church Community Services Board (CSB) and partner organizations:
#CallTextLive is a month-long suicide prevention month campaign, hosted by PRS CrisisLink. The campaign engages the community in discussing suicide, encourages people to get help by calling or texting a hotline, and provides information, resources, and activities for suicide prevention and awareness.
Walk:
Learn:
Raise awareness: share one of our award-winning videos tailored to different audiences:
The facts
Calls to PRS CrisisLink have increased dramatically in past year – from 4,223 calls in FY 2016 to 4,927 in FY 2017. Most common topics were anxiety, loneliness, mental illness, and life stress; other topics included anger, depression and relationships.
The PRS CrisisText Connect program received 1,115 text messages in FY 2017, resulting in the exchange of nearly 40,000 text messages between the people in crisis and the staff.
What you do this month could help save a life. Have an honest conversation with friends and family about mental health and suicide prevention. Join an online discussion; participate in a walk; take a course. Or, if you need to, call or text us for help – any time, day or night, 365 days a year.