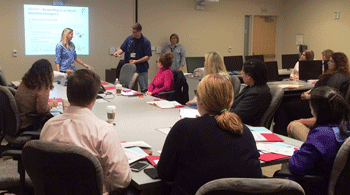 The Fairfax-Falls Church Community Services Board (CSB) will dispense free Naloxone at upcoming REVIVE trainings on Tuesday, January 16, 2018, at the Merrifield Center (8221 Willow Oaks Corporate Drive, Fairfax) and Wednesday, January 24, 2018, at CSB's Gartlan Center (8119 Holland Road, Alexandria).
Get trained with the skills and tools to administer Naloxone, a drug that reverses the effects of opioid/heroin overdose.
All trainings are FREE, approximately one hour long, and are offered at numerous locations and times across Fairfax County. Advance registration is not required to attend training.
Overdose is now the leading cause of accidental death in the United States. Help save lives. Learn more about opioids.
If you know someone with a drug, alcohol, or mental health problem, help is here. Call the CSB at 703-383-8500. In an emergency 24/7, contact CSB's Detox Center at 703-502-7000 or CSB Emergency Services at 703-573-5679. Call 911 in a life-threatening emergency.
Contact Information
Contact for news media inquiries: Lucy Caldwell, Communications Director, 703-324-7006 (office), 703-856-5210 (cell).