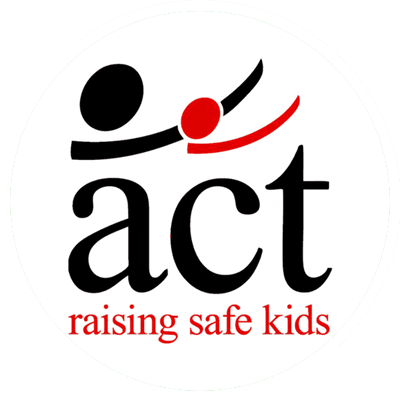 The ACT Raising Safe Kids program was:
Developed for adults who raise, care for and teach young children.
Designed to prevent violence by providing young children with positive role models and environments that teach nonviolent problem-solving.
Designed by the American Psychological Association and is evidence-based.

Program Mission
The ACT Parents Raising Safe Kids is a national anti-violence research based program that mobilizes communities and educates families and caregivers to protect children and youth from violence before it occurs. 
The program achieves its goals by:
Establishing partnerships with organizations, coalitions, colleges and agencies.
Training professionals and other adults who work with families.
Primary Concepts
Adults serve as important role models for teaching young children about violence prevention.
The early years are an important time for children to learn basic skills that can have a lasting impact on their lives.
Program Goal
To raise parent/adult awareness about ways to protect children and youth by improving parenting skills.
Program Curriculum
To promote violence prevention the curriculum addresses four core issues in 8 group sessions of approximately 90 minutes each:
Child Development:  Define and discuss realistic expectations regarding the behavior and abilities of children from birth to age 8.
Anger Management:  Help parents recognize anger in themselves, consider alternative strategies to corporal punishment, cope with children's tantrums and practice role modeling behaviors.
Social Problem-Solving:  Demonstrate establishing boundaries and appropriate consequences, discuss seeking alternatives to verbal and physical violence.
Media Literacy:  Raise parental awareness about the significance of reading aloud, reducing TV viewing and actively monitoring computer usage, video games, and action movies to protect children from media violence.
Contact CSB Wellness, Health Promotion & Prevention for more information.