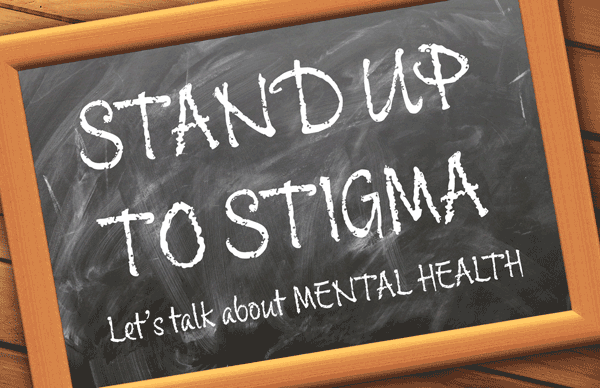 The Fairfax-Falls Church Community Services Board (CSB) is once again offering mini-grants for youth-led projects to reduce stigma among their peers, with support from the Suicide Prevention Alliance of Northern Virginia which is funded by the Virginia Department of Behavioral Health and Developmental Services.
These mini-grants will fund youth-planned, youth-led projects within Fairfax County, Fairfax City, and Falls Church City, to be completed by August 15, 2022.  A total of $6,000 is available, for requests not to exceed $1,000 each.
Marla Zometsky, Manager of CSB Wellness, Health Promotion & Prevention services says that in addition to the goal of reducing the stigma around mental illness, the mini-grants also aim to promote help-seeking behaviors.
While mental health concerns and disorders are common, frank discussions about them are not a common occurrence. Suicide is the third leading cause of death in youth ages 10-24. "Far too often, stigma prevents people from getting the care they need and deserve. Stigma, coupled with the isolation due to the response to COVID-19, trauma and systemic racism, further impacts our physical and mental health," says Zometsky. She added, "Youth are our leaders. Their voices are a powerful tool for change and these grants can support them as they lead the way to reduce the stigma associated with mental health concerns and prevent suicide."
Here are some ideas from previous years' grant awardees:
Buttons For Change

: Jack Barnes utilized his Stigma Reduction Mini-Grant to fund his project, Buttons for Change. Buttons for change works to reduce stigma by allowing students to customize buttons with positive messaging and imagery that not only promotes mental health but creates safe spaces within his school. Holmes Middle School supported this initiative by creating a curriculum around its message, which impacted at least 950 students. Students were provided information on the prevalence of mental health issues and challenges, were provided safe spaces to discuss their emotions and be creative in their promotion of positive mental health and helped to foster connections throughout the student body.
Learn more about Buttons for Change and its community impact here: Message from Holmes MS - 5/9/21 (govdelivery.com)
Mental Health Awareness Campaign

: Emi Van Winkle used her Stigma Reduction Mini-Grant to host a hoodie design contest, social media campaign, and a website.  Her goal was to allow individuals who participated in the contest to learn about mental illness. They learned more about the signs and symptoms of those who are struggling, how to initiate a conversation, and the many resources that could help. The winner of the hoodie design contest had their design featured on a hoodie in a fundraiser for NAMI of Northern Virginia.  Emi utilized her social media campaign to promote the design contest, and her website to host mental health resources. Emi was able to reach 5,000 youth with her campaign and go multiple schools involved in the project.
Home | Mental Health A-WEAR-ness (wixsite.com)
Mental Health A-WEAR-ness Hoodie Fundraiser Custom Ink Fundraising
Mental Health/Suicide Awareness Prevention Walk

: The Strawbridge Square Community Center utilized its Stigma Reduction Mini-Grant to create a youth-ran workshop to learn about mental health and available mental health resources. The 50 youth who participated in this workshop went on to host a Mental Health/Suicide Awareness Prevention Walk for the purpose of raising awareness about mental health and suicide prevention within their community. Not only did these youth increase their knowledge about mental health, but they also learned how to advocate for others.

Rock for a Change

: Youth at Wexford Manor Community Resource Center utilized their Stigma Reduction Mini-Grant to create their project, Rocks For Change. During the project period the youth at Wexford Manor learned about the stigmas that may impact your mental health, raised awareness in their community about resources available to those who may be struggling to manage their own mental health and learned about specific resources available to teens in the community. The youth then applied this newfound knowledge, and the theme of being "caught between a rock and a hard place", to paint rocks with positive messages of support and mental health awareness. This project impacted 130 youth and will continue to promote positive mental health within the Wexford Manor community and beyond.

Calm Cafe Lunchroom

: The Our Minds Matter Student-Led After-School Club used their Stigma Reduction Mini-Grant to develop a Calm Café. This café is for students who become overwhelmed and need a quieter setting than the cafeteria to eat and socialize in small groups.  The OMM group designed the space (including color choices, seating, and decoration), and painted the space. The goal of the Calm Café Lunchroom is to provide a space where students with mental health issues and developmental disabilities can feel less overwhelmed and engage in small group activities that promote mental wellbeing.
More funds are available; we are extending the application to our proposal submission deadline to December 31st, 2021. Additional awards will be announced on January 7, 2022.
Review the Request for Proposals, Request for Proposals to find out how to apply, and email csbprevention@fairfaxcounty.gov with questions.