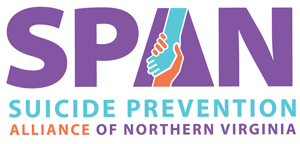 The Suicide Prevention Alliance of Northern Virginia (SPAN) LISTSERV provides periodic announcements about upcoming suicide prevention events and meetings, and shares information about suicide prevention initiatives in Northern Virginia.
SPAN is improving its ways of sharing information. In order to receive future mailings from SPAN, you must sign up for the LISTSERV.
After you submit the request to subscribe, you will receive an email asking to confirm your subscription; follow the instructions included in the email to begin receiving emails from SPAN.
To change your email address for your SPAN subscription, unsubscribe and/or manage your subscriptions to this and other County newsletters, go to the County Email Subscriptions page.