Enrollment key: fcps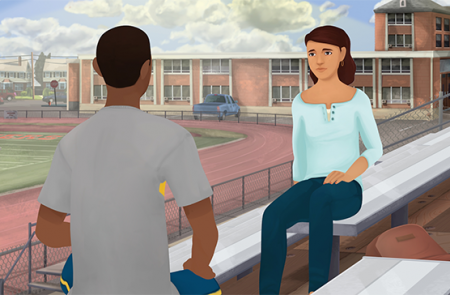 Friend2Friend [http://kognitocampus.com/peer, enrollment key: fcps] is a FREE 30-minute online simulation that gives high school-aged youth a chance to practice helpful ways to talk with a friend who may be struggling with psychological distress.
When you take the online training, you enter a virtual environment where you interact with a simulation of another young person. Unlike many online trainings, this session is interactive and dynamic. You'll choose actions to move the scenario along and receive real-time feedback on how well you are doing. You'll learn how to tell the difference between "normal" and "at-risk" behavior and how to begin a conversation about the topic of mental distress.
Learn about:
Emotional health and wellness.
Warning signs of mental health concerns.
Ways to help a friend in distress connect with a supportive adult.
Teachers can share this program with high school-aged youth and encourage them to participate. Other adults who work with high school-aged youth – such as scout leaders, coaches, church leaders – can also encourage them to take this online course.
The training can be done in more than one sitting.
Watch a 3-minute preview of how the training works and what it looks like.
Need tech support with the trainings? There's a tech support link within the portal, or email support@kognito.com. 
Youth Suicide Prevention Training is provided as a service of the Fairfax-Falls Church Community Services Board and the Virginia Department of Behavioral Health and Developmental Services
About the training provider – Fairfax County has contracted with Kognito, a leader in online and mobile learning experiences for our online youth suicide prevention training. Kognito's online courses use role-play conversations with virtual humans to prepare users to effectively manage challenging conversations about health. Several empirical studies have shown that Kognito simulations result in statistically significant and sustainable changes in user's attitudes, skills, and behaviors.
Privacy of information on Kognito website – In some of their sites, Kognito collects personally identifiable information, like names, postal addresses, email addresses, etc., to allow users to open an individual, password-protected account to access the site and content. Kognito will not sell, give or rent your name or any other part of the information you provide to other parties. Kognito uses return email addresses to provide you with information about your account, progress in the course, and optional and anonymous surveys. Read Kognito's Privacy Policy for complete information.