At the February 12th Environmental Committee meeting, the Board of Supervisors discussed funding $2.5 million in new energy efficiency projects. The board will likely approve the money in March as part of its third quarter review of the county's current budget.
These projects put into action the county's ambitious Operational Energy Strategy that was adopted last year. The strategy aims to cut energy use in county buildings by 20 percent per square foot over the next 10 years. The strategy also moves forward Fairfax County's commitment to cutting greenhouse gas emissions.
LED Streetlights
The county is planning to replace its existing streetlights with LEDs. Dominion Energy installs, owns, operates and maintains virtually all of these streetlights. However, this past summer county staff negotiated an LED conversion rate with Dominion that makes the conversion economically favorable.
Conversion of the county's current 56,000 streetlights is estimated to cost $9 million with an annual savings of $1.4 million. The streetlights will also cut 32.4 million pounds of carbon emissions every year, equal to the annual greenhouse gas emissions from 1,760 homes.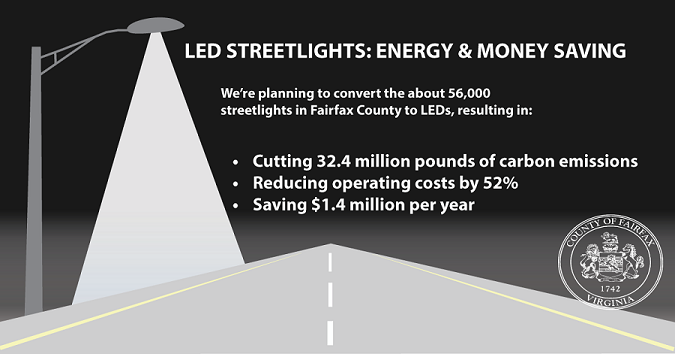 EV Charging Stations
As another energy efficiency measure, the county proposes installing electric vehicle charging stations at up to 20 county facilities, such as office buildings, community centers, libraries, RECenters and commuter parking lots.
The total cost for designing, permitting and building the EV charging stations is $1.5 million. The county will contract with a private company to own, operate and maintain these stations. The stations would service county vehicles, but would be available to the public for a fee as well.