A home energy assessment, also known as a home energy audit, lets you know how energy efficient your home is. It identifes problem areas and recommends improvements so you can save energy and money on your utility bills month after month.
What to Expect
What's Covered: An energy auditor will assess your home's energy performance by examining the home's exterior, each of its rooms, and key components like the heating and cooling system, water heater, appliances, and lighting. The energy auditor also will review your past utility bills.
Time: Most assessments take a few hours. Factors that affect the time include the type of assessment requested, the size of the home, and the type of fuels used in the home.
Cost: The lowest cost assessments start around $250 and rely primarily on a visual examination. More expensive assessments, from $500 up to $1,000, reflect the cost of additional services that help pinpoint energy issues and opportunities. Common additional services include a blower-door test to determine the airtightness of a home, infrared scanning to help identify air leakage, and combustion safety testing for homes with natural gas heating and appliances.
Results: You should receive a written report within a few days of the assessment that summarizes the energy auditor's findings and describes recommended improvements, including estimated costs and cost savings. Often the auditor can make the improvements for you at an additional charge.
Finding an Energy Auditor
Licensing: In Virginia, a residential energy auditor must be licensed as a Residential Building Energy Analyst by the Board of Contractors at the Virginia Department of Professional and Occupational Regulation (DPOR). Licensed residential energy auditors are typically certified either by the Building Performance Institute (BPI) or the Residential Energy Services Network (RESNET).
Hiring Tips: A few precautions can help minimize problems. Comparison shop by obtaining bids from multiple contractors and asking for references from each. Ask for a copy of the auditor's DPOR license and proof of insurance, and carefully review the written contract detailing the scope of work. For more information, visit the county's Consumer Services Contractor Hiring webpage.
Preparation and Participation
Utility Bills: The home energy auditor you've selected will want to review your home's energy use over the past year. This information should be available as a rolling 12-month summary on your most current utility bill or online account. If not, the past year's energy use can be requested from your utility provider.
Be Involved: On the day of the assessment, let the energy auditor know specific concerns you have or problem areas you've identified in your home. Accompany the energy auditor and ask questions!
DIY Resources
While a home energy assessment by a licensed energy auditor will provide the most comprehensive results, there are many do-it-yourself steps that you can take on your own. The following Department of Energy and Environmental Protection Agency online resources can help you conduct your own energy assessment and identify improvements: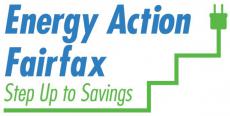 Energy Action Fairfax brings neighbors together to save energy.