Renewable energy is generated from sustainable natural resources that are not depleted when used. Typically renewable energy is associated with the generation of electricity, but it can also refer to fuel used for transportation or heating. Renewable energy projects vary in size from utility-scale power plants to commercial and residential applications. Data from the U.S. Energy Information Administration shows historical and projected growth for the U.S. renewable energy industry.
Many people are familiar with solar and wind energy, but other renewable energy sources include geothermal, hydroelectric, biomass, ocean, and waste. This webpage focuses on two renewable energy solutions that are readily available to Fairfax County residents – solar power and "green" power. More information on all types of renewable energy can be found on the DOE Office of Energy Efficiency and Renewable Energy and Virginia Energy Sense webpages.
Solar Power & Solarize Fairfax County
Solar photovoltaic (PV) panels capture energy from the sun to generate electricity. Panels are typically installed on a rooftop and used to power the home or business below. To help residents and businesses reduce the cost and complexity of investing in solar energy, Fairfax County sponsors an annual Solarize campaign. Program highlights include free onsite solar assessments, a bulk purchase discount, vetted contractors, and community workshops and support.
The 2018 Solarize campaign is now closed. Visit www.solarizefairfaxcounty.org for more information. You can also watch a recorded information session on demand on Channel 16 or download a Solarize Success Story.
In addition to using the electricity that you generate, solar panel owners in Virginia are credited for excess power generated through something called "net metering." Solar contractors typically coordinate with the electric utility to replace a customer's standard meter with a net meter after panels are installed. The net meter tracks electrons flowing both out of and into the electric grid, and Virginia state law requires utilities to reimburse customers for excess electricity generated. Residential customers may install systems up to 20 kilowatts and non-residential customers may install systems up to 500 kilowatts.
Regardless of any campaign or promotion, Fairfax County residents and businesses are eligible for a few financial incentives that reduce the cost of solar panels. The federal government offers a 30% tax credit that reduces to 26% in 2020, 22% in 2021, and expires December 31, 2021. Fairfax County also offers a solar energy equipment tax exemption for five years, and there is no permit fee.
"Green" Power
Most electric utilities offer the opportunity to buy "green" power for a small bill surcharge. Utilities supply "green" power by purchasing Renewable Energy Certificates, or RECs, on behalf of their customers. RECs represent the environmental attributes of power produced from renewable energy sources. They give customers the opportunity to support renewable energy without having to install a renewable energy project onsite. For more information, visit the Dominion Green Power or NOVEC Renewable Energy Certificates webpages. RECs can also be sold and purchased independent from a local utility.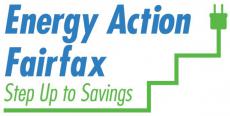 Energy Action Fairfax brings neighbors together to save energy.