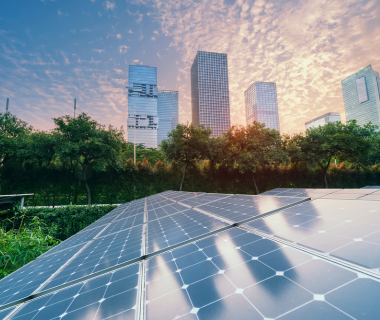 Fairfax County Government is working toward an accessible, affordable clean energy future for all. The county is establishing a clean energy financing entity (aka "green bank") to accelerate the growth of the county's clean energy economy and help achieve the community's climate goals. Investing in and implementing clean energy technologies is necessary to help our community meet its goals to reduce greenhouse gas emissions and be carbon neutral by 2050.
The green bank will boost the clean energy market by providing the community with financial and technical programming and tools for energy efficiency, renewable energy, and electric vehicle projects
 
Supporting a Clean Energy Economy
A gap and feasibility analysis (PDF)  found that Fairfax County has an addressable market investment potential of more than $650 million over the next five years for clean energy-related projects in the commercial and residential sectors. The green bank will stimulate the local economy and provide direct jobs for service providers.  
As more households, businesses, and entities invest in clean energy projects, it is expected that their energy savings will be reallocated to other segments of the market. According to the county's gap analysis, the five-year investment of $650 million in clean energy-related projects could create upwards of 13,000 jobs. This number includes the number of jobs estimated to be needed to perform the clean energy projects and the jobs that are projected to be induced by the savings property owners will see over the useful lifetime of their investments.

Addressing Equity and Opportunity
Investments made by the green bank will also help meet the community's environmental and social goals. Some programs will emphasize participation for low- and moderate-income homeowners and renters. Programs may include credit enhancement financing tools: low-rate loans; technical assistance, such as guidance on how to leverage federal incentives or other funding sources; or referrals to approved and vetted contractors.
Generating a Pipeline of Climate Projects
The Fairfax Green Bank would be the first of its kind in Virginia. The green bank model has been proven nationwide — in fact, there are two regional green bank entities, the Montgomery County Green Bank and the DC Green Bank, that are moving the needle and are opening the clean energy market in their communities. The Montgomery County Green Bank, as of December 2022, has assisted in closing $32.1 million of clean energy projects in the county, while the DC Green Bank, to date, has made more than $30 million in loans and created an estimated 800-plus jobs. 
Getting Feedback for a Greener Future
The Office of Environmental and Energy Coordination would like feedback from the business community, including contractors, developers, business owners, and capital providers, to help shape and design the green bank. How might a green bank help your business reduce energy costs and use clean energy, or grow your own clean energy services business? If you are interested in learning more or providing input, please leave any comments or questions on our feedback form.
If you have additional questions, please contact the Office of Environmental and Energy Coordination at oeecinfo@fairfaxcounty.gov or 703-324-7136.