Fairfax County created a greenhouse gas inventory to provide a baseline measurement, as well as to guide future efforts to cut these emissions.
This study covers five years from 2006 to 2010, and it accounts for total emissions from residential, commercial, industrial, transportation and county government sources within Fairfax.
Findings
The inventory finds that total emissions rose at a rate just below its population growth. During the five years studied, greenhouse emissions rose by three percent in total — but emissions declined by 1 percent when measured per resident. The county's population grew by 4 percent over this period.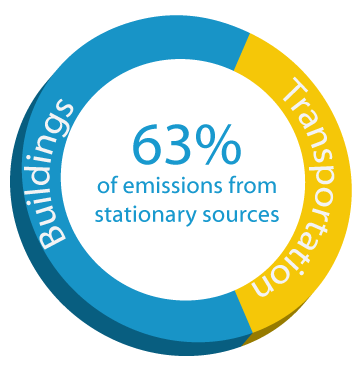 Overall, the report also finds that:
Stationary sources—that is residential, commercial, industrial and government buildings—accounted for 63% of total emissions in 2010. Residential and commercial buildings produced about 60% of these emissions.
Mobile sources—that is cars, trucks, buses, rail and off-road vehicles—accounted for 37% of total emissions in 2010. Passenger cars created more greenhouse gases than any other type of vehicle.
Energy consumption was the primary cause for greenhouse gas emissions from buildings. This includes electricity, natural gas and fuel oil consumption—but electricity use accounted for more than 50% of total emissions from stationary sources in 2010. County government buildings, including the public schools, only generated 2.42% of the total emissions from stationary sources in 2010.
Between 2006 and 2010, total emissions from passenger cars increased by nearly 4 percent. Commuters passing through Fairfax to other destinations accounted for 70 percent of this increase.
What Fairfax is Doing
While the county government only generates a very small percentage of total greenhouse emissions, Fairfax continually looks for ways to prevent or reduce emissions.
For example:
The county's waste-to-energy operation is carbon neutral to negative, and it generates enough electricity to power 75,000 homes, plus the plant. For every ton of garbage incinerated, half a ton of greenhouse gases are prevented from entering the atmosphere.
The county cut electricity consumption by its computer servers, creating a more than a 2.3 million kilowatt estimated reduction in energy use. As a result, a projected 1,524 tons of greenhouse gas emissions were avoided.
Because home and business electricity consumption produces the majority of greenhouse gas emissions, Fairfax County also is helping homeowners to save energy. The county's Energy Action Fairfax program offers quick, simple tips on how to save money and become more energy efficient.