The "Cool Counties" Climate Stabilization Initiative, which the Fairfax County Board of Supervisors adopted in July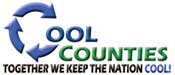 2007, consists of two major parts. The first is a declaration, or pledge, that contains three key elements. The second is a menu of policies and actions that a local government can take to help it achieve the goals in the declaration. 
Because the first part of the initiative, the declaration, is often misunderstood, this document describes each of its three elements and the actions taken that are related to that element.