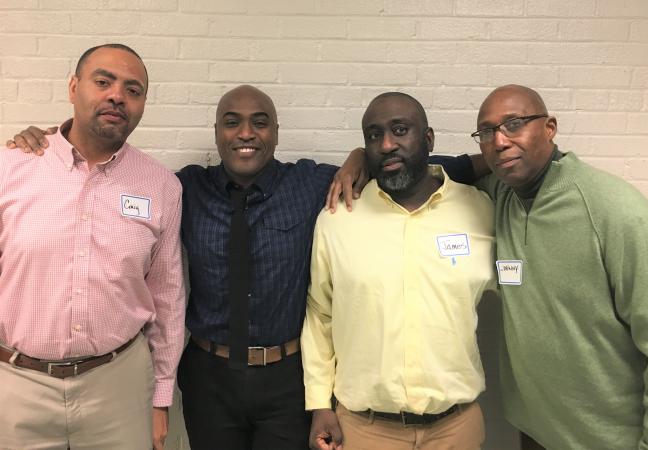 The brothers of the Omega Psi Phi fraternity (Psi Alpha Alpha chapter) challenged their membership to find a program that helped empower dads.
"We're a male organization and we're fathers. Unfortunately, there's an absence of fathers, particularly in minority communities. We want to assist with that to the best of our ability," Craig Spraggins, president of the Psi Alpha Alpha chapter, said. "We were actively looking for a fatherhood program to work with, but we struggled finding one."
Enter Fairfax County's Father Engagement Unit (FEU).
"A brother pointed me to Fairfax County and Champana Bernard [Father Engagement supervisor], and that was the in we needed," Spraggins said.
Spraggins and four other Ques, as Omegas are affectionately known, James Cherry, Chester Keller, Johnny Logan, and Tony Wells, immediately enrolled and received training in a Dads' Parenting Group class to better understand the work for which they'd volunteered. The training went well, and Spraggins and Cherry are actively involved in current Dads' Parenting Group classes.
Spraggins said training provided an opportunity for him to reflect on his own efforts as a parent. "It helped sitting next to fathers, sharing our stories openly," he said.
Cherry, father of three daughters, agreed with Spraggins' assessment. "Week by week, as you start to interject yourself into the lessons and preparing to one day co-facilitate, you start to open up more each week," he said. "As you start to open up, the more trust you gain from those that are participating. Seeing the lightbulb go off near the end on these guys really getting it--that's what this program is about. Finding out what it takes to be a good father and seeing that lightbulb go off, hearing them talk about what they can do. That 'aha' moment is the most rewarding part."
It's rewarding for FEU, as well. "We are truly fortunate to have several members of Omega Psi Phi Fraternity Inc., Fairfax Chapter, as volunteer group facilitators with our Dads Parenting Group," Bernard said. "Having been a part of our team of volunteers for a while now, these men of Omega Psi Phi have helped increase our agency's capacity to meet the needs of fathers in Fairfax County, and to educate these fathers about the critical roles they play in the lives of their children."
Learn more about Father Engagement and Dads Parenting Classes and view Pocket Dad videos.