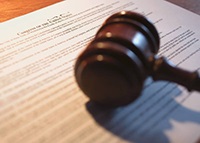 Rehabilitation Act of 1973
The Rehabilitation Act of 1973 preceded the Americans with Disabilities Act and is applicable to all federal programs and programs that receive federal funding, such as housing programs, educational agencies, and colleges and universities.
Section 504 prohibits qualified individuals with a disability to be excluded from, denied benefit, or be discriminated against by any program or activity that receives federal funding or is conducted by any Executive agency or the United States Postal Service.

Section 508 requires federal electronic and information technology to be accessible to people with disabilities, including employees and members of the public.
American with Disabilities Act (ADA)
The ADA prohibits disability discrimination in employment, state and local government, public accommodations, commercial facilities, transportation, and telecommunications
The ADA has five titles:
Title I- Employment

Title II- State and Local Governments

Title III-Public Accommodations

Title IV-Telecommunications

Title V-Miscellaneous
Fair Housing Act (FHA)
The Fair Housing Act prohibits housing discrimination (rental, sales, lending, etc.) on the basis of seven federal protected classes: race, color, religion, sex, disability, familial status, or national origin. It covers private housing, housing that receives federal assistance, as well as state and local government housing.
Individuals with Disabilities Education Act (IDEA)
The Individuals with Disabilities Education Act requires public schools to make available to all eligible children with disabilities a free appropriate public education in the least restrictive environment that also meets their individual needs. It includes due process and procedural safeguards.