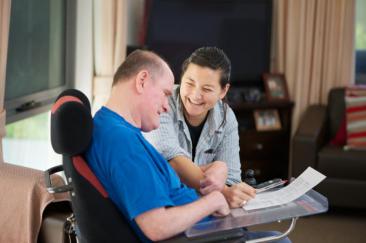 Respite care is short-term or temporary care provided to a person with a disability so that the person's caregiver can take a break from the daily routine of caregiving.
Respite Care Providers
Respite care can be provided by anyone that the caregiver can call upon for support and assistance, usually other family members, and may include friends and neighbors. However, when substitute caregivers are not available to provide adequate relief for the main caregiver, then community-based respite care services may be the best option. Home-based respite services may be provided or obtained through the Fairfax County Health Department, the Fairfax County Department of Family Services, or by various private non-profit or for profit agencies. Service may also be provided at locations other than the home of the care receiver.
Selecting a Respite Provider
For in-home providers you should:
Conduct an in-depth interview with each candidate.
Be specific about tasks, skills, and schedules involved.
Discuss payment options and schedules. Do not pay for services in advance.
Request several professional references and then ask the references about reliability, trustworthiness, punctuality, and the provider's ability to handle stress.
For out-of-home providers, you should plan to visit at least three, and ask the following:
How are care providers screened?
What is the training and level of experience of the providers?
Will providers need additional  training if there are specific family needs?
How and by whom are the providers supervised?
Are there limitations on the hours of service?
Does the provider provide transportation and meals?
What is the cost? How is payment arranged?
Paying for Respite Care
Private insurance, usually when licensed medical professionals are involved.
Private pay, sometimes with a sliding scale based on income.
Social Security Supplemental Security Income when persons have eligibility for disability coverage.
Medicaid waivers for home and community based services:
Veterans Administration. The VA provides inpatient respite coverage for up to 30 days a year for eligible veterans.
Active duty military families. TRICARE has two respite programs: Extended Care Health Options (ECHO) and the Military Exceptional Family Member Program (EFMP) for individuals who meet the criteria (respite care is provided for the primary caregiver of active duty members injured in the line of duty).
Various nonprofit and disability advocacy organizations such as the United Way and the Alzheimer's Association.