Welcome to the 2023 March issue of Volunteer Voices, a monthly newsletter for current and potential Domestic and Sexual Violence Services (DSVS) volunteers.
In this Issue:
Table of Contents

Notes from the Staff
Self-Care Corner: Self-Care Is Essential for Survival
Toni Zollicoffer Receives Action Alliance's Hope Award
TED Talk: How Childhood Trauma Affects Health Across a Lifetime
During Social Work Month, We Appreciate Our Workers
Quotables

Partner Spotlight: All about Domestic Violence Action Center Partnerships
A Day in the Life … Stacy Ziebell
Reviews: "When I Close My Eyes"
Raising My Voice: Meet Alaina Archie
Birthdays
Test Your Brain
Educational Resources
Quarterly Trainings
Make a Note!
Notes from Staff
Hi, Volunteers: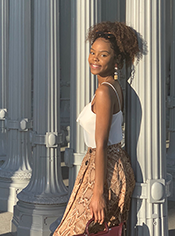 I am Tianna Hairs-Hughes, victim advocate at the Domestic Violence Action Center, also known as DVAC. I have been working in this role since August 2022. Prior to coming to Fairfax County, I worked at a non-profit in New York, In Our Own Voices Inc., as a case manager supporting people of color and the LGBTQIA+ who identified as victims and or survivors of domestic and sexual violence. I am excited to have you all join us in our mission to prevent and end domestic and sexual violence, human trafficking, and stalking. As my mom would say, "It takes a village." Whether working with folks who experience domestic or sexual violence is a future career choice, or just a way of giving back or helping when you can, your impact will have a lasting positive effect on the people you help.
When I'm not working, I like travel, paint, shop, and engage in Harry Potter marathons (Gryffindor is my sorting house)! I recently moved to the DMV area with my fur baby Mila. She is 2-year-old husky akita mix and a ball of energy. I am grateful to work with such a group of passionate and caring individuals at DSVS and DVAC. I can't wait to meet and work with you all!
I look forward to working with all of you, and remember, self-care is the best care!
Tianna Hairs-Hughes
DVAC
Self-Care Corner: Self-Care Is Essential for Survival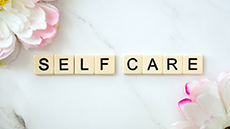 Self-care is more than a bubble bath or a yoga class (though it can be those things); it is an essential part of our survival.
As you prioritize your emotional wellness, ask yourself these questions:
What do I want?
What do I need?
How am I really feeling?
The way you answer these questions isn't as important as you using them to guide how you apply the following three tips when establishing your emotional self-care repertoire:
Self-care is about setting healthy boundaries and making sure the people in your life respect those boundaries.
Prioritize your mental health. Just as you keep track of your blood pressure, weight, and nutritional intake, you must do the same with your emotional health.
"No" is a complete sentence. Stop doing things don't want to do and don't feel guilty about saying it.
Toni Zollicoffer Receives Action Alliance's Hope Award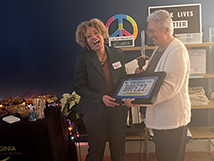 Domestic and Sexual Violence Services Division Director Toni Zollicoffer took home the Virginia Sexual and Domestic Violence Action Alliance Hope Award last fall for her work on partner abuse intervention and prevention. Recommendations from the study group she led have already sparked changes in the way local and state agencies address the harm that takes place within intimate partner relationships. Learn more about Toni and her work in DSVS.
TED Talk: How Childhood Trauma Affects Health Across a Lifetime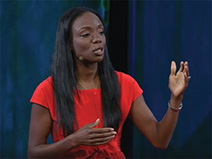 Childhood trauma isn't something you just get over as you grow up. Pediatrician Nadine Burke Harris explains that the repeated stress of abuse, neglect, and parents struggling with mental health or substance abuse issues has real, tangible effects on the development of the brain. This unfolds across a lifetime, to the point where those who've experienced high levels of trauma are at triple the risk for heart disease and lung cancer. Hear her impassioned plea for pediatric medicine to confront the prevention and treatment of trauma, head-on in this TED Talk.
During Social Work Month, We Appreciate Our Workers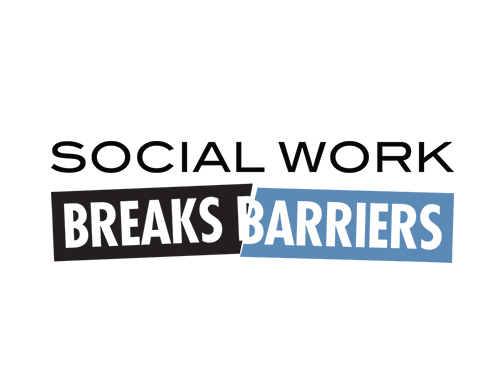 The social work profession is incredibly diverse, with workers in many different places, including schools, hospitals, mental health practices, veteran centers, and local domestic and sexual violence agencies like ours — to name a few. Despite that diversity, social work professionals share a common dedication to helping people achieve their own potential. Each day social workers help break down barriers that prevent people from living more fulfilling, enriched lives. They work on the individual level, helping people overcome personal crises like food insecurity, lack of affordable housing, or limited access to good health care. They also advocate on a systems level to ensure laws and policies are adopted so everyone can access such services. In gender-based violence, they help support all people impacted by domestic and sexual violence, human trafficking, or stalking. Learn more about the work being done by social workers in DFS.
Quotables
"I always wondered why somebody didn't do something about that. Then I realized I was somebody." – Lily Tomlin