Are You Ready to Get Back to Work? Let Us Help!
You may be eligible to receive free training in a high-demand field if you apply by Friday, Nov. 19, 2021.
The Re-Employing Virginians (REV) initiative is intended to help Virginians whose employment has been impacted by the COVID-19 crisis. The Fairfax County Department of Family Services will assist you with the entire process.
Who Qualifies?
This opportunity is open to Virginia residents who meet one of the following two criteria:
Lost job due to COVID-19 and received unemployment benefits on or after Aug. 1, 2020
or
Laid off from a full-time job due to COVID-19 and now work part-time (20 hours or less), earning less than $15/hour.
Training Assistance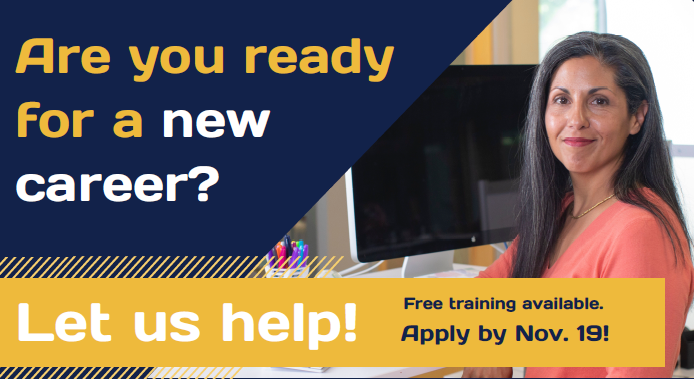 Training must focus on the following industries:
health care,
information technology,
skilled trades,
public safety and
early childhood education.
Training costs must not exceed $1,000; participants may choose to cover the remaining cost should it exceed the limit. Funding also varies for short-term programs, part-time students (less than 12 hours), and full-time students (12 hours or more). More information will be provided at the live information sessions.
Additional Employment Assistance
Occupational Training
Career Coaching
Resume and Interview Assistance
Access to Online Job Fairs
Financial Coaching and Workshops
Next Steps
Contact Uyen Tran, REV Intake Specialist, at 703-533-5341, 711 or by email. A REV team member will walk you through the process.
We also offer live information sessions!
Re-Employing Virginians Information Session
Learn about what the program is and who is eligible. Get a brief overview of the enrollment form and required documents checklist, get information about other program services that the Virginia Career Works Centers offer and conclude with answers to questions you may have. 
The sessions are held weekly; pick a session date/time that works for you! 
Tuesdays
at 12 p.m. –
Register Now
Thursdays
at 2:30 p.m. –
Register Now