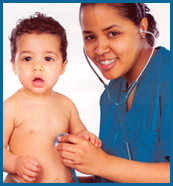 Programs for Children in Fairfax County and the Cities of Fairfax and Falls Church
FAMIS Plus (Formerly known as Medicaid)
This program pays certain medical and health care costs for eligible children ages 0-19.
Services are offered through private Medicaid-certified doctors or Managed Care.
Call

703-324-7500

; TTY

703-222-9452

.
FAMIS (Family Access to Medical Insurance Security) Program
If your child is NOT eligible for FAMIS Plus, an evaluation will be made for FAMIS.
FAMIS provides health coverage similar to FAMIS Plus, for eligible families whose children do not have health insurance.*
FAMIS covers children of working families who earn too much income to qualify for FAMIS Plus and too little to afford private health insurance.
Call

703-324-7500

; TTY

703-222-9452
*A child's health insurance cannot have been dropped, without good cause, in the last four months before application.
Medical Care for Children Partnership (MCCP)
For children NOT eligible for FAMIS Plus or FAMIS.
Pediatric and dental care are provided for children birth to 18 years old through private physicians and dentists and a health maintenance organization (HMO).
Some services include primary care, urgent care, well-child care, immunizations, x-rays, laboratory tests, pharmacy services and case management. This program does not offer in-patient and outpatient hospital care.
More Services:
Federally Qualified Health Centers for Adults
Fairfax County previously partnered with Inova Health Systems to provide care to uninsured residents at three Community Health Care Network (CHCN) sites in Merrifield (Fairfax), South County (Alexandria) and North County (Reston). On July 1, 2019, Neighborhood Health assumed operations of the Merrifield and South County sites, and HealthWorks for Northern Virginia assumed operations of the North County site. Fairfax County and Inova are working with Neighborhood Health and HealthWorks to assure a smooth transition and that patients continue to get the best, most compassionate care possible.
Inova Pediatric Center
Pediatric care, including well-child care and school and sports physicals, available for children ages birth to 21.
Care is provided by health care professionals employed by Inova Fairfax Hospital for Children/Inova Health System

703-205-2600

(English and Spanish)
One-Step Access to All Programs:
Call or visit the CHCN center listed above
Contact Inova Health System's Partnership for Healthier Kids at

703-698-2550

, TTY 711. This is a community program of Inova Health System and Fairfax County Public Schools. Families receive a brief, private interview in person or by phone and are offered follow-up contacts to ensure that their children receive health care.