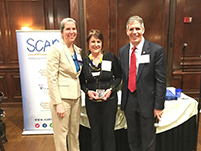 Image: Sonia Quiñónez, Executive Director, SCAN of Northern Virginia;
Nannette Bowler, Director, Fairfax County Department of Family Services;
Delegate Tag Greason (Virginia)
Nannette M. Bowler, Director of the Fairfax County Department of Family Services, was recently named a 2017 Allies in Prevention award-winner for her exceptional work protecting children and strengthening families. The awards were presented by SCAN of Northern Virginia and its Allies in Prevention Coalition at a luncheon to kick-off National Child Abuse Prevention Month.
SCAN had this to say about Ms. Bowler:
Nannette Bowler is the Director of the Fairfax County Department of Family Services and sits on the Board of Directors for Fairfax CASA (Court Appointed Special Advocates). Since coming to Fairfax County in 2008, she has led with a powerful vision that focuses on the greater community while empowering staff to recognize and engage strengths in the individual families they serve.
Ms. Bowler has worked to create an exceptional team within the Department, with members who are approachable and willing to collaborate. "There is no 'us against them' mentality," notes her nominator Darcy Cunningham, Executive Director of Fairfax CASA. "Nannette embraces collaboration." She has been pivotal in creating progressive and innovative programs within DFS including leadership academies, training new workers in cohorts, Neighborhood Networks, and the Father Engagement Program.
Before coming to Fairfax County in 2008, Bowler was chief judge of the Family Division for the 8th Judicial Circuit in Ionia County, Michigan. As head of the Michigan Family Independence Agency and a member of the governor's Cabinet, Bowler directed 22 programs, including child welfare, juvenile delinquency, adult protective services, self-sufficiency, and disabilities. She previously served as executive director of the Chance at Childhood: Law and Social Work Initiative at Michigan State University, and was also co-founder and executive director of the Children's Law Center and legal counsel/executive director to the Michigan lieutenant governor's Commission on Children, which culminated in the passage of 21 bills in the house and senate involving all aspects of child welfare.
# # #
Questions or need more information about this news posting?
Contact Amy Carlini by email or call 703-324-7758, TTY 703-222-9452.
Learn more about the Department of Family Services.