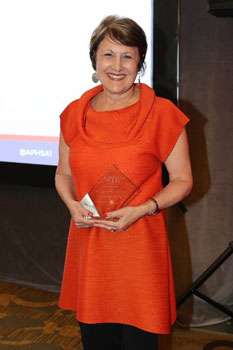 The American Public Human Services Association (APHSA) has named Nannette M. Bowler, Director of the Fairfax County Department of Family Services, as a recipient of its 2017 Local Outstanding Member Award. The award recognizes individuals or agencies for outstanding contributions to the organization and to the field of human services.
As a long-term dedicated member, Bowler currently serves on the APHSA Local Council Executive Committee. She also serves as the Vice Chair of the Executive Committee for the National Association of Public Child Welfare Administrators (NAPCWA), an affiliate of APHSA, and is a member of the APHSA Joint Task Force on Refugees and Unaccompanied Children.
According to APSHA, "Nannette Bowler has been leading her agency on a journey through the progressive stages of the Human Services Value Curve and has been at the forefront of the county's Human Service IT System modernization effort."
"Nannette is known for her willingness to tackle challenging issues by engaging in difficult conversations, creating a culture of change, and generating and applying the tools to transform her organization," said Tracy Wareing Evans, President and CEO of APHSA. Furthermore, her award winning, nationally recognized, new employee onboarding, professional development, and career management programs are all interconnected and aligned with her department's strategic vision."
# # #
Questions or need more information about this news posting?
Contact Amy Carlini by email or call 703-324-7758, TTY 703-222-9452.
Learn more about the Department of Family Services.