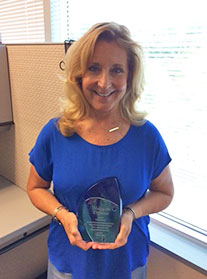 Elizabeth Henry, Senior Manager for the Fairfax County Department of Family Services, recently received the President's Award from the Virginia League of Social Services Executives for her outstanding work in leading and developing the organization's strategic plan. The award is one of the highest honors bestowed by the League.
# # #
Questions or need more information about this news posting?
Contact Amy Carlini by email or call 703-324-7758, TTY 703-222-9452.
Learn more about the Department of Family Services.