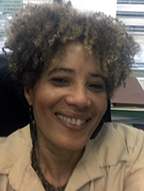 The Fairfax County Department of Family Services is pleased to welcome Toni Zollicoffer as Division Director for the Office for Women & Domestic and Sexual Violence Services (OFWDSVS).
 Ms. Zollicoffer most recently served as Deputy Director of the Office of Victim Services and Justice Grants for the District of Columbia where she was responsible for ensuring that all victims of crime in the District had access to a comprehensive continuum of care. Prior to that, she led the effort to make the District's child welfare agency domestic violence informed. Ms. Zollicoffer has over 25 years of experience implementing and directing many programs focused on serving the needs of women and children impacted by trauma. She is a Licensed Professional Counselor and holds a Master's degree in Science in Clinical Community Counseling from John's Hopkins University. She is also trained in EMDR, an evidence-based practice used to treat victims of psychological trauma. Her first day with OFWDSVS will be Wednesday, May 30.
# # #
Questions or need more information about this news posting?
Contact Amy Carlini by email or call 703-324-7758, TTY 703-222-9452.
Learn more about the Office for Women & Sexual and Domestic Violence Services.