Institute for Early Learning (IFEL)
The Institute for Early Learning offers professional learning opportunities for educators working with children. Courses, workshops and online sessions provide educational opportunities that support quality learning experiences and quality learning environments for children of all ages. These continuing education classes also help meet professional development requirements for permitting and licensing.
IFEL Classes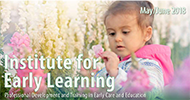 2018 May and June Classes*   
* Fairfax County is committed to nondiscrimination in all county programs, services and activities. To request reasonable accommodations or to receive this information in an alternate format, call 703-324-3044 or TTY 711.
Registration Information
If you work in an early childhood program in Fairfax County, you may enroll in six IFEL courses throughout the year. Up to five staff from the same center or school may enroll in the same course or class.
If you are a family child care provider, you may enroll in six IFEL courses throughout the year and additionally you can also enroll in up to six Family Child Care Business Workshops.
In-person Courses/workshops
The registration process takes place six times per year.
Registration Start Date
Month Courses/Workshops
Second Wednesday of December
beginning at 7:30 p.m.
January/February
Second Wednesday of February
beginning at 7:30 p.m.
March/April
Second Wednesday of April
beginning at 7:30 p.m.
May/June
Second Wednesday of June
beginning at 7:30 p.m.
July/August
Second Wednesday of August
beginning at 7:30 p.m.
September/October
Second Wednesday of October
beginning at 7:30 p.m.
November/December
Register for Classes and Family Child Care Business Workshops
Automated Phone: 703-324-4018
Fax: 703-803-0116
Mail: Office for Children
12011 Government Center Parkway
Suite 920
Fairfax, VA 22035
The Institute for Early Learning offers professional development through online webinars. View information about each webinar and register for the webinars that are of interest to you.
For more information about online webinars, please call 703-324-3044.
Cancellation Policy
Classes may have to be cancelled due to circumstances that create unsafe conditions or for other unforeseen reasons.
When classes have to be cancelled, attempts are made to reschedule sessions, however, rescheduling is not always possible due to instructor schedules or the availability of the facility where the class is to be held.
When classes are cancelled, notification is provided in several ways, including:
Email: An email cancellation notice is sent to everyone enrolled in the class who has an email address in the OFC database. When email cancellation notices are sent, please respond to the email by clicking "reply" and sending a short response letting OFC know that you received the message and are aware of the cancellation.
Phone: For those who do not have an email address in the OFC database, class participants will be called. If someone does not answer the phone, a voice mail message will be left with details about the class cancellation.
Information Line: The greeting on the OFC information line 703-324-3044 is updated whenever a class is cancelled or rescheduled. Please listen to the entire message on this line if you call the office and no one is there to answer your call.
If you have any questions about the cancellation or rescheduling of a course, please send an email or call the OFC information line at 703-324-3044.
Frequently Asked Questions
For frequently asked questions about IFEL in general, registration or enrollment, please visit the Frequently Asked Questions page.