Accelerant Detection Canine Program
Since 1989, the Fire Marshal's Office has operated an accelerant canine detection program, the oldest existing program of its kind in the United States. The program operates a single team consisting of one dog handler and one certified accelerant detection canine. Here are a few facts and statistics about the program ...
Five canines have been involved with the program since its inception: Ebby, Bert, Vanda, Keegan, and now Berkley.
Berkley, our current certified accelerant detection canine, is a 60 pound male black Labrador retriever. He is trained to detect 21 different ignitable liquids, which assist fire investigators with incendiary fire incidents.
The canine team has worked on more than 1000 fire investigations and has assisted more than 90 agencies in approximately 10 states.
On several fire investigations where a fatal fire was thought to be accidental, the accelerant detection canine team helped determine the cause of the fire to be arson.
On one occasion where a fire was thought to be arson in which two children died, the accelerant detection canine team assisted in helping investigators prove the cause of the fire to be accidental, releasing the parents as possible suspects.
On another occasion, the accelerant detection canine "alerted" on a washing machine in operation; within the machine was a pair of shoes contaminated with ignitable liquids. The shoes were collected as evidence and ultimately linked to arson in Prince William County, VA.
The team has been involved in the execution of over 75 search warrants, discovering evidence containing ignitable liquids; 12 of the properties had previously been searched with negative findings for ignitable liquids.
During fire investigations, the accelerant detection canine has alerted on 58 items related to evidence which were submitted to the crime laboratory for analysis; all 58 items were verified by the crime laboratory as positive for accelerants (ignitable liquids).
With the use of the certified accelerant detection canine, evidence collection time has been significantly reduced.
The team is actively involved in the Fairfax County Juvenile Fire Setter Prevention program and has provided community education and outreach relevant to fire prevention, fire safety, and fire investigation to over 5,000 students within the school systems of Arlington, Fairfax, and Prince William counties, as well as the City of Alexandria.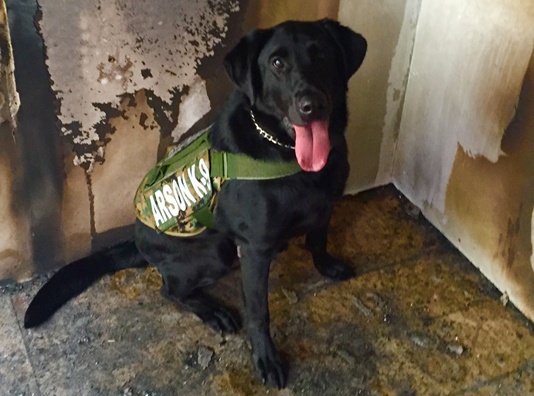 Berkley, Accelerant Detection Canine
Berkley joined the department in 2016.