Fairfax 275 Lesson Plans and Activity Ideas Celebrating the County's 275th Anniversary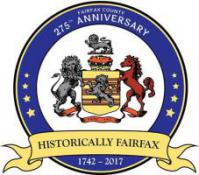 Browse our suggestions below and see if there is anything that you can incorporate into your lesson plans or daily activities.
interview residents of the county
host an art show with various student artwork, including photographs
create travel brochures of our county historical sites/buildings
create maps of your neighborhood
play or create period music
develop dramas/skits/songs
host a fashion show through the years
host a historical talent/variety show
prepare history exhibits/pop-up museums
create time capsules
invite guest speakers
create driving/walking tours
write poems
research the history of the county's places/names
write birthday cards for the county
collect 275 things that students like about the county
create a "This Day in Fairfax County" newspaper, website, power point presentation
create infographics using data for the county
Educational Materials
We've assembled a collection of materials and resources for you to use to gain a better understanding of the county's history and how you can apply it to your educational efforts.
Lesson plans that encourage students to explore the past of their own backyards.
Worksheets, lesson plans, and educational tools all designed for high school students.
Examine George Mason and his political contributions to Virginia and the nation by studying the lessons found on the Gunston Hall website.
Tours and activities focus on the food, clothing, slave life, and schooling of Sully's past residents.
Downloadable Civil War informational brochure created for the 150th Anniversary of the Civil War in Virginia.
Lessons about what our local and state governments do and how it affects your everyday life.
Worksheets, lesson plans, and educational tools all designed for middle school students.
Utilize these resources that are designed to support further exploration into George Washington's world.
A classroom without walls for PreK-12 students to study a variety of subjects.
This comprehensive children's reading list is compiled of books available at Fairfax County Public Libraries for you to check out.
Learn more about George Mason's ideas that helped shape the country in this downloadable lesson plan.
Here you'll find a curated list of craft ideas and various projects for students to illustrate life in the early American colonies
A great children's activity where you make a replica of George Washington's wig to celebrate this founding father and resident of Fairfax County.
This project based learning challenge is aimed at creating short videos telling the story or history of local people or events.