Kate's Place, located at 12970 Katherine Hanley Court in Fairfax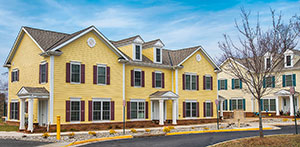 (Springfield District), is a permanent supportive housing option owned by the Fairfax County Board of Supervisors. Located on the campus of the county's Katherine K. Hanley Family Shelter, Kate's Place serves Fairfax County families who have experienced chronic or frequent homelessness and are in need of supportive services. All families who live at Kate's Place face multiple barriers to maintain stability, including disabilities that impede their household from earning a sufficient income. Each family benefits from services provided by the adjacent shelter.
Kate's Place is an innovative model not only in its structural design, but how it supports families that have experienced long-term homelessness. Two separate three-unit buildings, comprised of six single family residential apartments, are designed to resemble family homes similar to those in its surrounding community. Two of the six units have two-bedroom, 1.5 bathroom fully accessible apartments; the other four are three-bedroom, 1.5 bathroom units, two of which are stacked, and the remaining two – one-level.
The Fairfax County Redevelopment and Housing Authority (FCRHA) and Fairfax County are committed to being a leader in accessibility and Universal Design in affordable housing. In 2007, the Board of Supervisors, at the recommendation of the FCRHA, adopted a policy supporting universal and accessible design in affordable housing projects funded by the county. The FCRHA also adopted its own policy supporting similar principles in its own projects. Consistent with those policies, Kate's Place has been designed to comply with the Uniform Federal Accessibility Standards (UFAS) and Americans with Disabilities Act (ADA) 2010 standards, and also follow several of the Universal Design guidelines. Two of the six units, one in each building, are fully accessible.
The location of Kate's Place relative to Katherine K. Hanley Family Shelter gives families access to comprehensive case management services from the non-profit organization, Shelter House. Services include intake assessment, benefit assessment, goal setting, long-term care plan development, weekly case plan development, progress monitoring, individual money management, tenant education, advocacy, and referrals. Cornerstones Inc., another local non-profit, provides property management services including inspections, tenant orientation, maintenance coordination, and collection of rent. Rent at Kate's Place is 30 percent of the tenant's income.
Kate's Place serves as a successful model of public-private partnerships working together to address the issue of homelessness. The total cost to develop Kate's Place was $2.1 million. The Department of Housing and Community Development (HCD), on behalf of the FCRHA, constructed the development in partnership with Fairfax County Department of Public Works and Environmental Services (DPWES). The development was funded through the federal HOME Investment Partnerships Program and the local Fairfax County Housing Trust Fund. Units are managed under the Fairfax County Family Supportive Housing Program and overseen by the Office to Prevent and End Homelessness (OPEH). OPEH is the lead entity for the Continuum of Care and coordinates homeless services provided under 27 separate programs. OPEH provides contract oversight and policy guidance to all of the homeless services providers in Fairfax County.