The Residences at Government Center "Residences" is a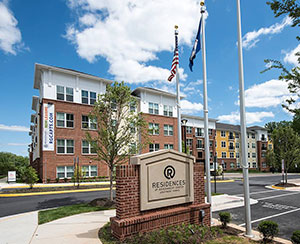 workforce housing development created by a unique public-private partnership between the County of Fairfax, Fairfax County Redevelopment and Housing Authority (FCRHA), Jefferson Apartment Group, Stratford Capital Group, and the Virginia Housing Development Authority.
Located on approximately 8.8 acres of publicly-owned land on the campus of the Fairfax County Government Center in Fairfax, Virginia, the "Residences" offers 270 rental units of affordable housing for Fairfax County's low and moderate-income public and private sector workforce. The Residences has 216,668 net rentable square footage with a multi-level parking deck and has been awarded the coveted EarthCraft Gold certification. The development features many elements that are not common in most affordable developments, to include underground storm-water management, universal design, low impact and sustainable design features, amenities such as a fitness center, children's play area, pool, conference room, and outdoor courtyards. It is connected to the adjacent Fairfax County Government Center by a trail system. The new development is an attractive part of the Fairfax County Government Center campus, blending in with the existing architecture of the surrounding area including the Fairfax Corner commercial and retail mixed-use development.
The project was born from the knowledge that Fairfax County is a great place to live and work, and that working people – the people who make Fairfax County's economy run - need an affordable place to live while they work in the community. County leaders realized that the vitality of the county's economy rests, in part, with the low and moderate income workforce, including entry level professionals and lower income employees and residents. Without them, Fairfax County's economy could not continue to thrive.
What makes the "Residences" so unique is the innovative public-private partnership that was formed to address such a critical need in the community. By leveraging county land, the community was built at no cost to the local taxpayer. It was the first project in Virginia to employ a hybrid financial structure utilizing both 9 percent and 4 percent Low- Income Housing Tax Credits (LIHTC) to fund its development.
Low and moderate income workers need and deserve homes in the locality whose economy they help bolster, and the "Residences" is an answer to this need. With its location, the project provides affordable housing close to work and public services and is a benefit to the county, the economy, to businesses, and to the community.
The "Residences" represents the leveraging of an affordable housing opportunity as an economic tool that helps promote growth and an economic surge within the county.