The development of affordable housing options is a countywide priority. Particularly affordable homes for older adults living on a fixed income. For many seniors in the Mount Vernon District, "aging in place" is becoming more difficult as property values continue to rise.
In order to increase the opportunity for older adults to continue to live independently within their local community, Fairfax County is proposing the construction of up to 95 new affordable apartments for older adults adjacent to Gum Springs Glen in the Mount Vernon District. The proposed site currently houses a one-story brick commercial building and is partially zoned for non-residential uses. The site is positioned between two residential communities.
The proposed Gums Springs Glen II community would be located at 7835 Richmond Highway, Alexandria, with access to public transit, shopping and medical facilities, and a variety of community facilities (including Martin Luther King, Jr. Park, Gum Springs Community Center, the South County and Hollin Hall Senior Centers, and the Sherwood Hall Regional Library).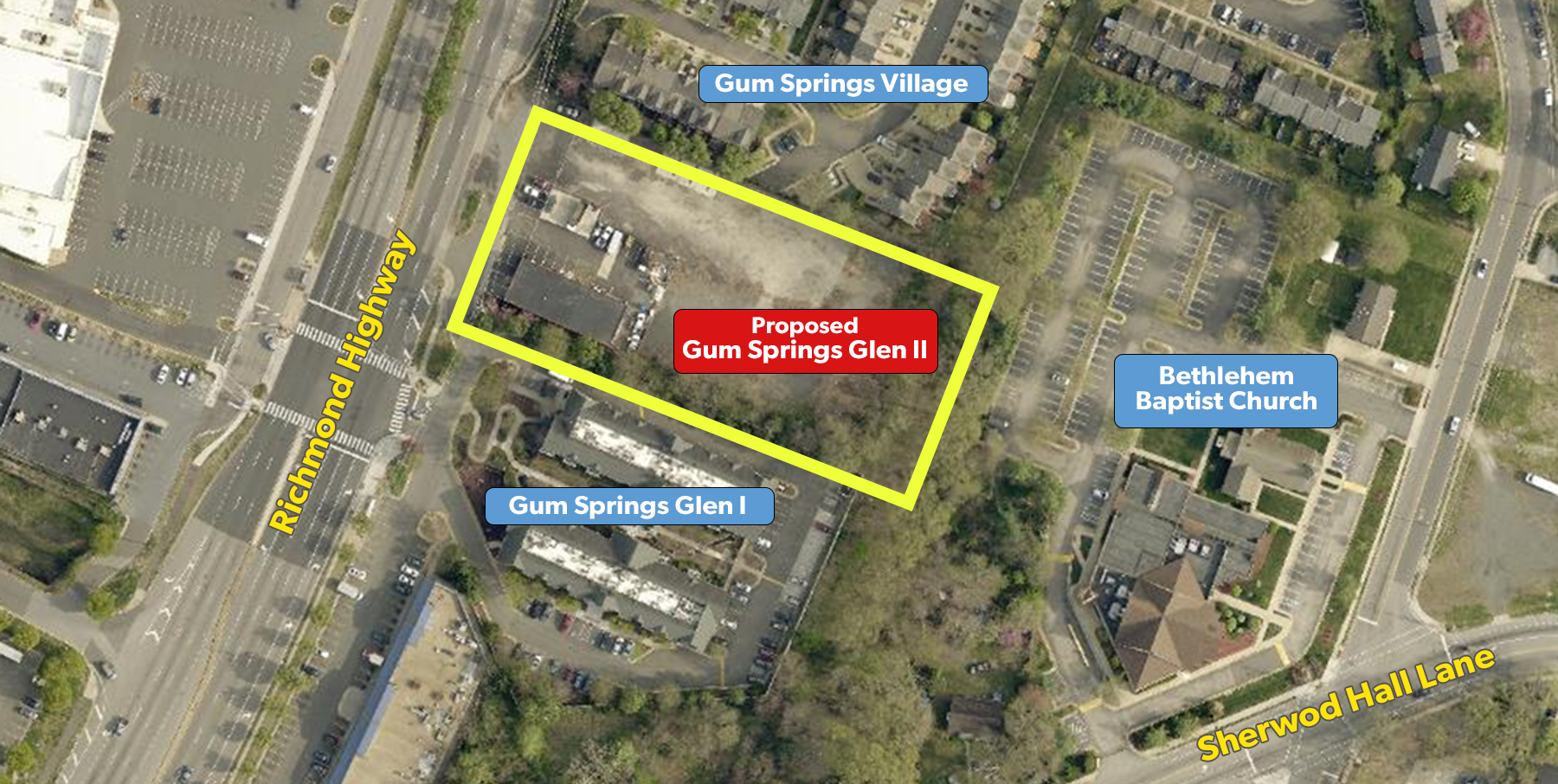 Preliminary Design Study
A preliminary design study was conducted to understand how a senior independent living facility could be accommodated on the site considering its constraints and opportunities. The initial concept demonstrates an option including the number of units, floors, building footprint, parking, open space, vehicular and pedestrian site circulation, and coordination with the adjacent Gum Springs Glen I with the intent to obtain feedback and comment from the community.  Based on the feedback, the design will continue to be modified and refined.  
Design Features
Up to 95 one-bedroom apartments in an attractive four-story building
Coordinated vehicle access with Gum Springs Glen I at a signalized intersection
Integrated design and programming with Gum Springs Glen I community
Enhanced bike and pedestrian facilities, street trees, and plaza along Richmond Highway
Additional indoor and outdoor resident amenities