If there is a plan review required for your permit type, you will need to apply for a second permit for "Plan Review Only." This will allow us to receive your plans electronically. 
Examples of permits that require a Plan Review Only permit in addition to the permit to complete the work include an addition to a single-family home, a detached accessory structure, or a deck. Please follow these steps carefully to complete the process.

No fee is required for the Plan Review Only permit application. This application serves only to provide access to electronic plan submission for permit types without Standard ePlans configurations.  If you are asked to pay a second fee, the ePlan review only permit was not processed correctly.  Please do not pay the second fee. Contact the Customer and Technical Support Center to void the application that was incorrectly processed and try the process again.
STEP 1:
Log in to the FIDO System
It is critical that you log in to the FIDO System before you begin this process. Failure to log in first will cause the system to change your permit type to one that generates fees. This error will require you to start the process over to create the right permit type.
The example shown below is for residential, but the same process applies for commercial permits.  Select "Commercial ePlan" if you are submitting a commercial project plan.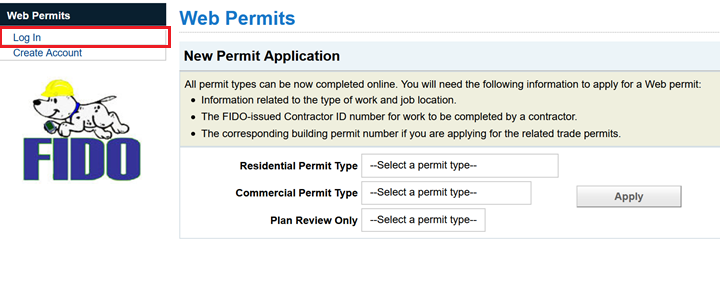 STEP 2:
Apply for a permit for "Plan Review Only"
After you have logged in, select the appropriate "Plan Review Only" permit type from the bottom drop-down menu – either Residential ePlan or Commercial ePlan.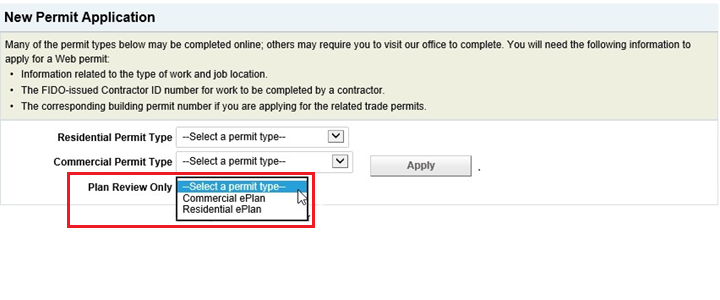 STEP 3:
Enter Occupancy Type and Work Type
When you reach this point in the application process for your "Plan Review Only" permit, select a work type of "NEW SINGLE FAMILY DWELLING" for all residential permits or "NEW COMMERCIAL BUILDING" for all commercial permits. This work type establishes a plan review routing process. You must select one of the two plan review work types regardless of the actual work to be performed. Remember that this second permit is only for the purposes of Plan Review. Be sure to fill in all required fields marked with an asterisk. See Step 4 for specifics on Job Description.

STEP 4:
Job Description
You must enter the Job Description exactly as follows: "PLAN REVIEW ONLY FOR PERMIT [FILL IN THE PERMIT NUMBER OF YOUR PREVIOUS PERMIT APPLICATION FOR THE ACTUAL SCOPE OF WORK HERE]." This allows staff to associate your plan review with the permit for the actual scope of work. Please continue with the steps below. Once submitted, a permit technician will link your Plan Review Only permit to your original permit.
STEP 5:
Complete the rest of the Plan Review Only permit application
From this point, follow the prompts from the online system to complete the information on the rest of the tabs and click "Finish." You will receive an email from the online system with your "Plan Review Only" permit number. Stay logged into FIDO and go to "Status of Applied Permits." Select the "Upload ePlan" button. That will begin the workflow in ProjectDox. 

STEP 6:
Verify your information
Confirm that your email, permit number and other project information is correct. Then check the box beside "Are you sure that you are going to submit a plan/plans electronically for the above permit?" and click the "Submit" button. This will create a ProjectDox workspace for your project.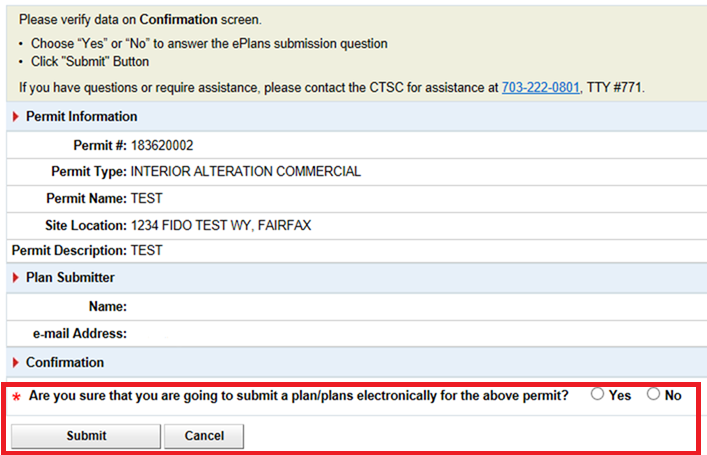 STEP 7:
Accept ProjectDox invitation and log in
You will receive an email with an invitation to ProjectDox for your permit application within 15 minutes. The invitation will contain instructions and log in information.
If you are a new ProjectDox user, you will receive a user ID and temporary password.
If you are a returning ProjectDox user, simply log-in to ProjectDox and locate your project using your existing Username and Password.
Once you are in the ProjectDox application, you will be able to Upload ePlans.
 
Example of email: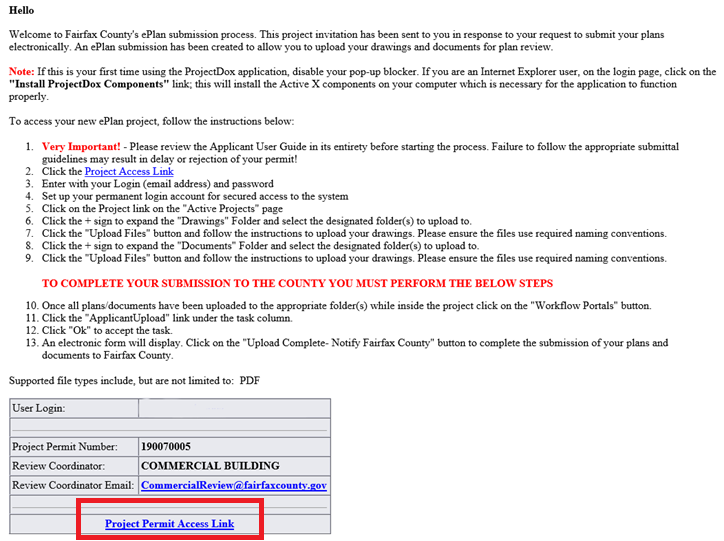 ---
More information, videos and FAQs are available on our ePlans website.
Next Step: Upload ePlans 
For general questions about the ePlans process, call 703-222-0801, option 2, TTY 711, or email staff.