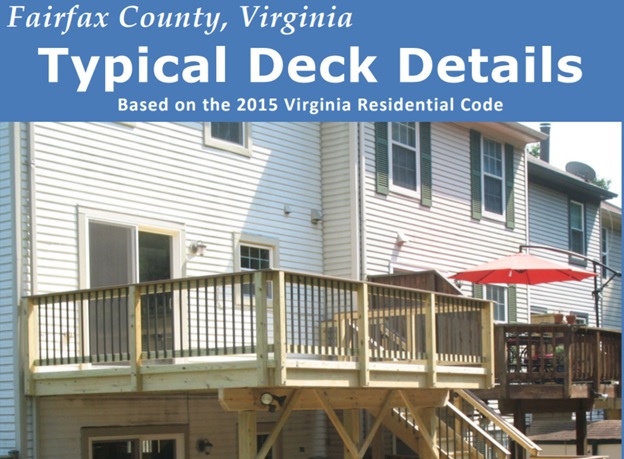 By Brian Foley
Building a deck is a homeowner's DIY dream (or nightmare in some cases). Many weekend warriors feel building a deck is the easiest construction project they'll be able to tackle around their house. What they don't realize is that deck collapses are the most common residential structural failures and the biggest source of residential injuries and deaths. For that reason, the Building Division offers the Fairfax County Typical Deck Details to homeowners and contractors alike to ensure decks in the county are constructed in a consistent, code-compliant and safe manner.
As a national leader in deck safety strategies, Fairfax County has made considerable contributions to the industry over the past few decades. In fact, the American Wood Council approached Fairfax County several years ago to ask if they could use our details as the initial basis for theirs (Publication DCA6). While our details have slightly diverged since, DCA6 is a nationally recognized companion set of typical details. In addition, our office is approached numerous times a year by building departments across North America hoping to obtain our permission to affix their jurisdictions' name to our details. Of course, we say yes.
To be helpful and thorough as possible, our details call out products from various manufacturers to provide our novice (or professional) deck builders options and to ensure if one product is not available, there is another for the builder to choose from. For instance, for epoxy anchors at a ledger connection, we specify products from Red Head and Hilti. Fairfax County does not endorse a single manufacturer or product line. However, we ensure the products are from nationally recognized and respected companies who are also committed to deck safety. Those include:
Fastenmaster
Hilti
Red Head
Simpson Strong-Tie
USP (MiTek)
Recently Simpson Strong-Tie published eight online videos on how to safely construct a deck. If a new deck is in your future, I would suggest watching these videos; they are a wealth of great information. If followed, they compliment the Fairfax County Typical Deck Details. Watch these videos with a few points in mind…
Only Simpson Strong-Tie products are referenced. It's their videos, so it's no surprise the videos only promote their products. There are other equally good products from other manufacturers you can use.
The video was produced in the west where wood species must be incised (slits cut into the members' surface parallel to the wood grain) to ensure preservative treatment chemicals are thoroughly absorbed into the wood. Here in the mid-Atlantic, Southern Pine is the most common lumber for outdoor use; as a species it's naturally absorbent and does not require incising.
The beams used in the videos are solid rather than multi-plies. The Fairfax County Typical Deck Details specifies a range of multi-ply beams rather than a solid single ply.
By following our typical details, using the specified product therein and watching how-to videos from Simpson Strong-Tie, you will build a safe and code compliant deck that will last you decades.