Notices provide details of procedural and program changes impacting the land development and permit application process.
Below are Notices prior to 2021. Notices since that time are posted to the LDS News and Information page.
Notices provide details of procedural and program changes impacting the land development and permit application process.
You can receive email updates when new information is available by subscribing to the Letters to Industry email list.
Receive alerts from the Planning and Land Use System (PLUS) by subscribing to the PLUS email distribution. Emails will be sent about PLUS training, scheduled maintenance and other tips and instructions about PLUS.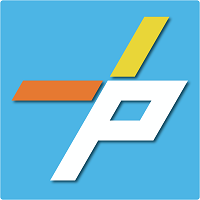 Visit "Stay Connected" at fairfaxcounty.gov/plan2build/plus.
Type in your email address and click on the red "Subscribe" button.
On Oct. 31, 2022, PLUS will be the central Fairfax County platform for customers doing business with the following:
Environmental Health (Department of Health)
Department of Code Compliance
Department of Planning and Development
Land Development Services
Office of the Fire Marshal (Fire and Rescue Department)
Land development-related processes, including creating and submitting applications, scheduling inspections, paying fees, tracking application status and submitting complaints to the Department of Code Compliance will be performed in PLUS.
Contact Us for PLUS Support
If you have department-specific questions about records in PLUS, such as applying for a permit or submitting a complaint, please use the following phone numbers and email addresses:
Planning and Development:
Land Development Services:
Health Department's Environmental Health Division:
Office of Fire Marshal:
Department of Code Compliance:
If you have technical questions (e.g., account setup, password issues) regarding the PLUS system, please call 703-324-2222 or email PLUSSupport@FairfaxCounty.gov. All numbers use TTY 711.
Recent changes to the Virginia Stormwater Management Program (VSMP) Regulations § 9VAC25-870-65.D.1. impact the use of certain proprietary Best Management Practices (BMPs).
The Virginia Department of Environmental Quality (DEQ) issued new technical guidance on Sept. 15, 2021, regarding proprietary BMPs. The new guidance requires manufacturers of proprietary stormwater BMPs to provide documentation to DEQ if their BMP was listed on the BMP Clearinghouse website prior to July 1, 2020. The documentation must show that another state, regional or national certification program has verified and certified its nutrient or sediment removal effectiveness to continue to be approved by DEQ. DEQ has updated the list on the Virginia Stormwater BMP Clearinghouse to show which BMPs meet or do not meet the new requirement.
To ensure compliance with DEQ guidance, Land Development Services will process stormwater management plans submitted as part of any Site, Subdivision or Grading Plan as follows:  
Plans submitted on or after January 1, 2022, may only include proprietary BMPs shown as approved on the Virginia Stormwater BMP Clearinghouse website.
Plans submitted before January 1, 2022, that include a complete stormwater management plan using a prior-approved proprietary BMP may be resubmitted until December 31, 2022. 
Plans not incorporating proprietary BMP remain unaffected by this change.
The list of Manufactured Treatment Devices Approved for Use in Fairfax County has been updated to clarify those proprietary BMPs that meet the new requirement and have been approved by the Land Development Services Director for use in Fairfax County in accordance with Public Facilities Manual § 6-0402.3B. If you have questions, please email Thakur Dhakal, or call 703-324-1780, TTY 711.
For additional guidance, see the DEQ's Technical Guidance Memo No. GM21-2006.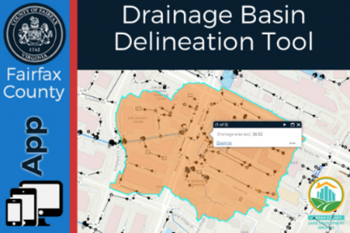 A new interactive Geographic Information System (GIS) tool allows users to pick a point on a map and the tool will automatically delineate the basin draining to that point for any location in the county. Drainage basins, or watersheds, are areas of land that drain streams and rainfall to a common outlet.
This valuable data provides engineers quick estimates of the drainage areas to a given point and can be used by landowners to estimate drainage areas on and around their own property. County staff ecologists use this same data to evaluate the relationships between land use and hydrology, and their influence on stream condition, water quality and aquatic life.
To explore the drainage basin of your interest, check out the newest GIS app: Drainage Basin Delineation Tool, which uses LiDAR data (the most accurate elevation surface available), to delineate drainage basins. To learn more about watersheds, visit Watersheds | Public Works and Environmental Services.
This is only one of many GIS applications developed by Land Development Services (LDS). To explore more LDS GIS applications please visit our LDS Mapping Applications homepage.
Virginia Stormwater Management Plan (VSMP) Regulatory Update (9VAC25-880) - New Virginia Pollutant Discharge Elimination System (VPDES) Construction General Permit Registration Statement
Summary: The updated 2019 Registration Statement for General VPDES Permit Coverage for Discharges of Stormwater from Construction Activities (VAR10) reflects the November 25, 2020, final exempt regulatory update affecting requests for construction general permit coverage. Specifically, any permitted land-disturbing activity that will generate disposal of non-agricultural fill off-site is required to report each off-site area that will receive the fill as well as the contents of that excavated material. This disclosure is required whether the off-site disposal area will be covered under the requested permit or another VPDES permit. 
Effective Date: As required by the Department of Environmental Quality (DEQ), the new VPDES Registration Statement is effective January 1, 2021. Beginning, January 1, 2021, older versions of the 2019 Construction General Permit registration statement will no longer be accepted. 
Process: Per the updated regulatory language found under 9VAC25-880-50 B.5, the operator must submit a registration statement to the Fairfax VSMP authority that specifies whether excavated material (i.e., fill) will be transported off site for disposal; the name and physical location address, when available, of all off-site excavated material disposal areas, including city or county; latitude and longitude in decimal degrees (six digits – ten-thousandths place); and the contents of the excavated material.
As part of this regulatory update, DEQ is required to disclose to every locality where the fill will be disposed of, including the source of the fill and the contents of the fill. The Office of Stormwater Management with DEQ will add this information to the DEQ website. 
The 2019 Registration Statement form has been updated to reflect these changes. 
Registration Statements may continue to be submitted electronically using the following address: LDSConstructionGP@fairfaxcounty.gov. Please be sure to include all attachments and make sure the Registration Statement is completed and signed by the appropriate person, as explained in the instructions.
If you have any questions, please contact LDSConstructionGP@fairfaxcounty.gov
2021 Comprehensive Unit Price Schedule
Summary: Implementation of the 2021 Comprehensive Unit Price Schedule (UPS) 
Effective Date: The 2021 UPS will go into effect on March 1, 2021. This formulaic change reflects a 2.1% increase linked to inflation as published in the Engineering News Record 2021 Construction Cost Index (published in January 2021). Affected submittals include the following: 
New bond requests
Replacement bond requests
Bond extension requests
Bond reduction requests
New conservation deposit requests
Replacement conservation deposit requests
Future construction deposit requests
In the case of development agreement extension and replacement requests, if the estimated value using the 2021 UPS exceeds the existing posted amount, the county will require supplemental security before approval of the request. As noted above, all bond reductions must be calculated using the 2021 UPS.  
If you have any questions, please contact Morgan Wolfe in the Bonds and Agreement Center at 703-324-1519, TTY 711. 
When a land development project is initiated in Fairfax County, improvements to the public infrastructure, such as streets, sidewalks, utilities and other bondable items may be required. Learn more about Bonds and Agreements.
Now Accepting Requests for Pre-Construction Meetings and Shell Only Non-Residential Use Permit (Non-RUP) Inspections Electronically