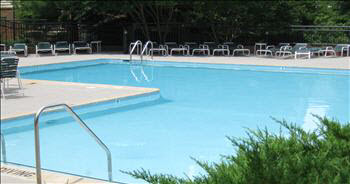 Each summer, community pools offer our families an endless source of recreation and a respite from the season's heat and humidity. The various county agencies that regulate the operation of community pools work to ensure our summer fun takes place in a facility that is clean, safe and accessible to all.
Annual Operating Requirements
The operation of community pools requires several annual inspections per the county ordinance for water recreation facilities. Pool owners, management companies, boards and managers are responsible to be familiar with the code and have the required health inspection, pool operators, electrical and fire permits to ensure the safety and health of staff and swimmers.
All pools require an annual electrical inspection.  All metallic parts of a pool structure must be bonded as required by the electrical code.  The annual electrical inspection can be completed by a third-party electrician or a county inspector.
Required permitting and inspection links:
New Construction or Renovations
A commercial swimming pool/spa building permit is required for new construction and renovations to a pool and its associated buildings. You must also obtain a mechanical or plumbing permit (for fuel‑fired heaters) and an electrical permit (for lighting, outlets and filter/circulating equipment). Refer to the links below for more details.
Accessibility
New community pools are required to be accessible under the Americans with Disabilities Act (ADA). ADA requirements are met through provisions of the Virginia building code. See Accessibility Fundamentals to learn more about basic accessibility requirements for the accessible route and buildings on property.
Existing pools must also be accessible through specific requirements from the Department of Justice (DOJ) which enforces the ADA. Learn more on making existing pools accessible or call the ADA help line at 1-800-514-0301, TTY 1-800-514-0383.  DOJ also offers frequently asked questions.
More Questions?
For more information, contact the Permit Application Center at 703-222-0801, TTY 711, or by email.  For specific code questions, contact Building Plan Review at 703-222-0114, TTY 711, or by email.