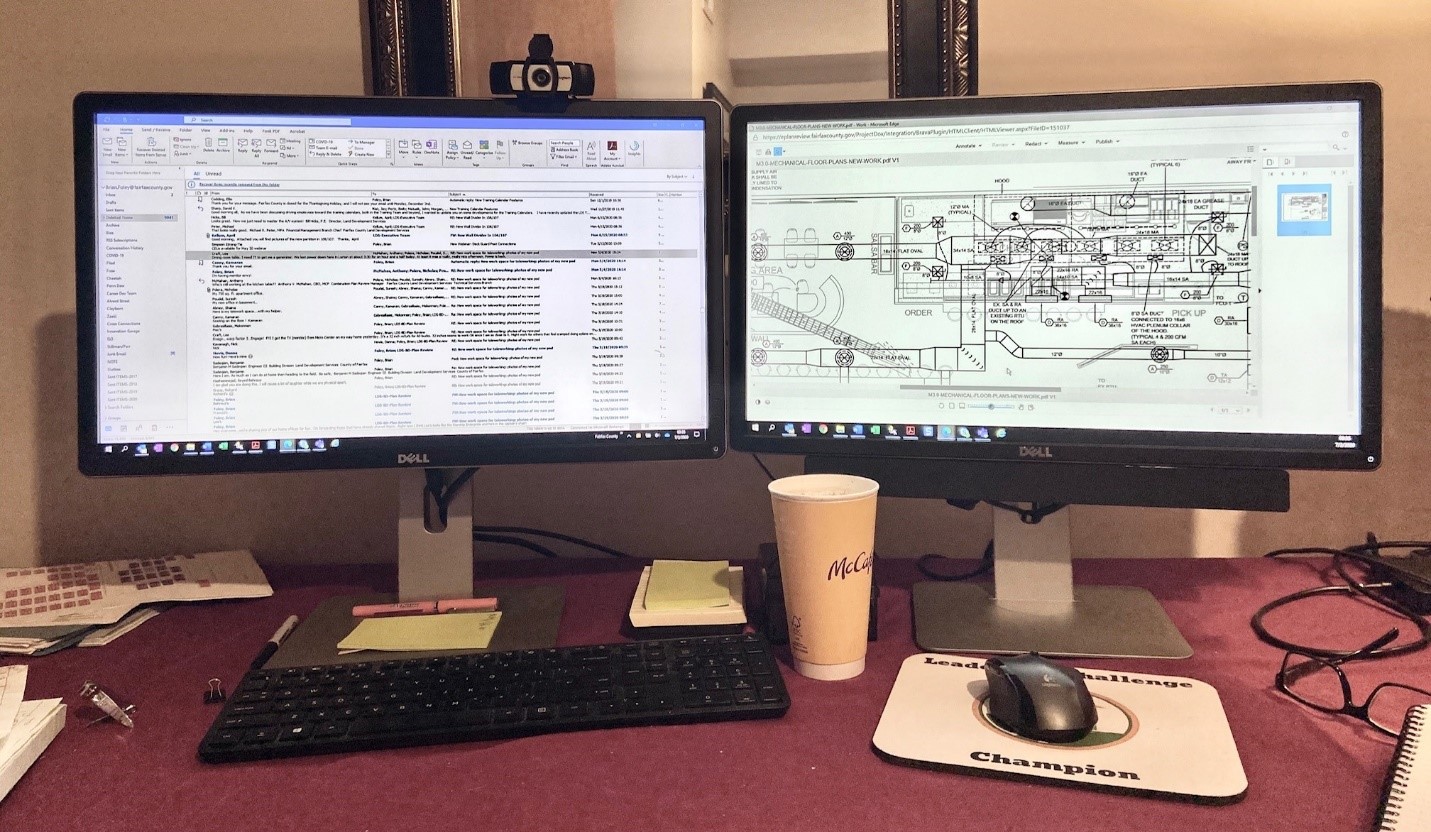 By Brian Foley
By now many of you know that building code and permit application services in Fairfax County will not be returning to the pre-pandemic paradigm of accepting paper plans and conducting face-to-face transactions with technicians and plan reviewers. Land Development Services (LDS) will remain all electronic based. That means the third floor plan review public counter (Suite 324) will be permanently closed. In addition, services once offered on the second floor will be offered primarily online. LDS is offering appointments to assist customers with their online accounts and document uploads. Although the building will reopen to the public on July 6, 2020, LDS will only provide services via virtual meetings for the foreseeable future. To learn more, go to the LDS Operational Status webpage.
We acknowledge that the transition to an electronic-only transactions has been bumpy, and many of you are still learning the ropes and even working out the kinks in your own conversion from the paper-based world. With all that said, I'm here to give you some positive news about our eplan process as well as other developments from the building department.
First and foremost, eplans have afforded us the opportunity to concurrently review a set of drawings for all disciplines rather than the old baton pass of a plan roll from one reviewer to the next. With this positive change, our timeframes for LDS-based reviews (building, mechanical, electrical and plumbing) have reduced dramatically. Initial data coming out of ProjectDox (our eplan software) shows tenant improvement projects of 20,000 square feet or more take an average of three business days once assigned to staff. More submissions in ProjectDox and more data mining needs to reinforce this, but the initial reports are showing a positive enough trend I thought it worthwhile to share with you.
Another area to update you includes our Walk-Thru program. In the eplan world, you can no longer come to our offices, sit in front of staff and get your permit on the same day. Many of you have navigated the process and gotten your deck permits and alike with no problem, and some of you have waited two weeks or longer. To improve this, we have implemented new initiatives to speed up the processing of most walk-thru plan types. You should see the effects of this beginning July 6, 2020. Through this program we are still reviewing small commercial and residential projects on a priority, first-come-first-serve basis. However, we reduced the maximum threshold for residential additions to 500 square feet to speed up the process.
This is also a good time to remind you of our Metal Stud and Demo permits for tenant improvement projects. Still not well known by our customers, they offer great time savings, and can get a project moving while the main building plans are in review.  Permit technicians are prioritizing this permit type as they triage the hundreds of applications submitted to the county daily.
On the inspections front, we will continue to conduct virtual inspections using MS Team, FaceTime and Skype for Business. However, when we return to the field, some inspections will remain virtual. This process has proven successful and has been touted by contractors as simple and convenient. Virtual inspections also reduces (currently eliminates) travel time between project sites allowing staff to accomplish more in a regular workday. We will leverage this learning experience to provide us efficiencies without straying from our mission. The safety of our inspections is paramount, so the decision to return to the field will be a pragmatic one. We will make an announcement on next steps.
There are lots of other improvements coming to the process. Some will be here by summer's end; others will be more long-term and will be game-changers in the way we do business. Thank you for your patience through our changeover to all electronic processing. While we have not yet ironed out all the wrinkles in our process, you can be assured we have not lost sight of our commitment to ensure code compliant construction and to the customer service you expect from us.