Planning and Land Use System (PLUS), the county's planned, multi-agency platform for completing zoning, building, permitting and other land development and environmental health processes online will incorporate the records below as of July 1, 2021.
Department of Planning and Development
Rezoning, Special Exceptions, Special Permit and Variances Applications
Home-Based Businesses
Accessory Living Units
Noise Waivers
Interpretations of the Zoning Ordinance
Zoning Compliance Letter Requests
Vested Rights Determinations
Wetlands (Tidal) Permits
Intergovernmental Review Requests
Agricultural and Forestal Districts
Telecommunications (2232 Review and Administrative Review-Eligible Projects)
Public School Expansions or Modifications
Public Facility 2232 Review applications
Land Development Services
Home Improvement Contractor Licenses and Payments
Building Code Modifications and Code Appeals
Environmental Health
Temporary Food Events and Permits
Marinas
Massage Establishments
Tattoo Permits
Health Sanitation Inspections/CORE
Summer Food Service
Safety Through Actively Managing Practices (STAMP)
To use the new services on the PLUS platform, applicants must first register for a free account at PLUS Citizen Access. Others can browse and search the site without logging in. More details about PLUS, including previous releases, as well as helpful tutorial videos to walk users through the registration process are available on the PLUS Support Center page.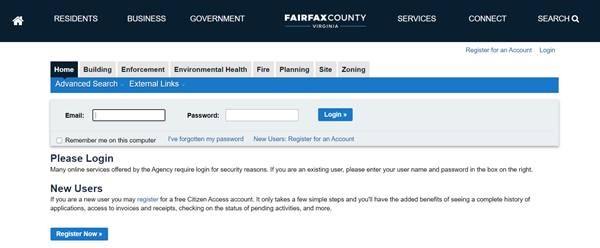 Contact Name
Mary Mulrenan
Contact Information
Public Information Officer
Fairfax County Land Development Services
703-324-2743, TTY 711