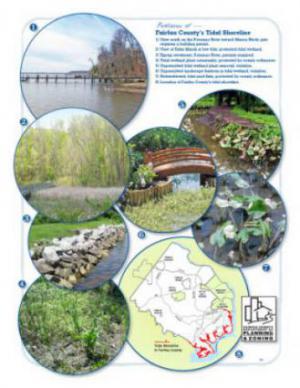 Tidal shorelines are beautiful, yet extremely sensitive, natural resources.  Recognizing the critical importance to protect, preserve and restore these beneficial environmental assets, Fairfax County government and other state and federal agencies have adopted laws and regulations to preserve the quality of our waterways by preventing erosion, protecting shorelines, reducing pollution, and preserving vegetation. View a Map of the Tidal Shoreline in Fairfax County.
Owners of waterfront property within the tidal shoreline in Fairfax County are important members of a partnership to protect the environment. Download the Important Information for Owners of Tidal Shoreline Property flyer.
Environmental Stewardship and Permitting Information for Waterfront Property Owners
So what does this mean to tidal shoreline property owners who want to make changes to their property? It means that depending on the type, size and location of the project, you will probably need one or more permits and other approvals from the respective federal, state or local agencies. This is because the various regulations apply differently based on the nature and scope of the project and its proximity to certain environmental features.