In an effort to improve our customer service, Land Development Services (LDS) has updated its Building Permits Checklist. This checklist serves as a reference to assist you in meeting minimum requirements for all building permit applications (e.g., commercial, residential, elevator). Please use this checklist to confirm you are providing necessary documents before submitting your application.
In addition to this updated checklist to help you navigate through the permit application process, please visit the LDS operational status webpage for additional resources.
If you have questions about the checklist or building applications, call 703-222-0801, TTY 711 or email.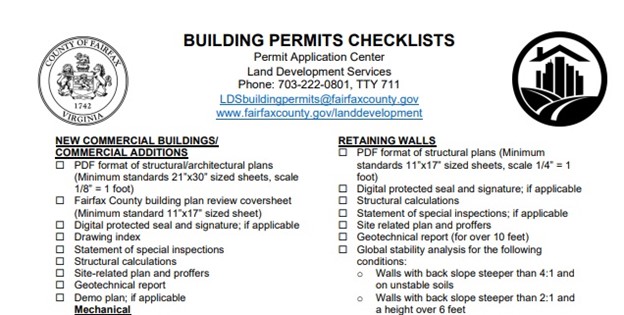 Contact Name
Mary Mulrenan
Contact Information
Public Information Officer
Fairfax County Land Development Services
703-324-2743, TTY 711