If you want to ensure that your drawings or plats are uploaded to scale, you can use the measure tool within ProjectDox. Below are step-by-step instructions on how to use that tool if needed.
1.  Open the Site Related Documents folder to view the individual pages, then click on the desired page.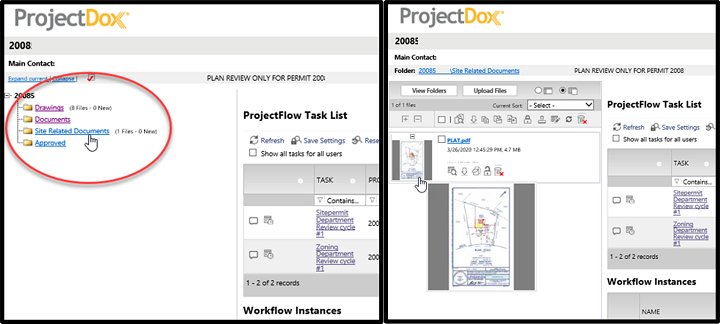 2.  At the top of the pop-up window, you will see "Measure." Click the small down arrow to the right and select "Settings."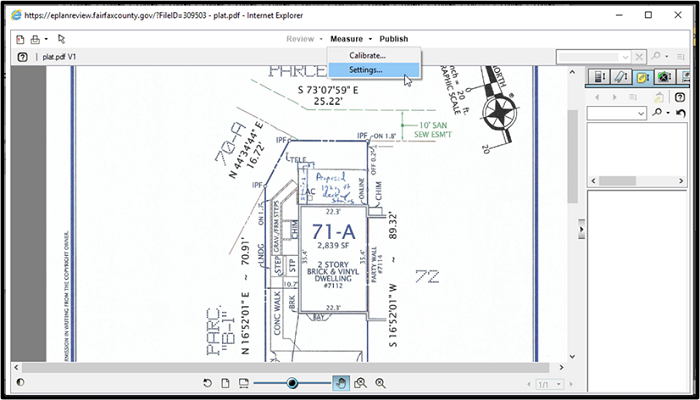 3.  In the "Measurement Settings" window, you will need to update the Display units (to feet) and set a custom scale based on what is shown on your drawings (typically located near the bottom of the sheet). Please note, the first number shown is typically in inches, the second number is typically in feet (i.e., Scale = 1" = 20'). Click "OK."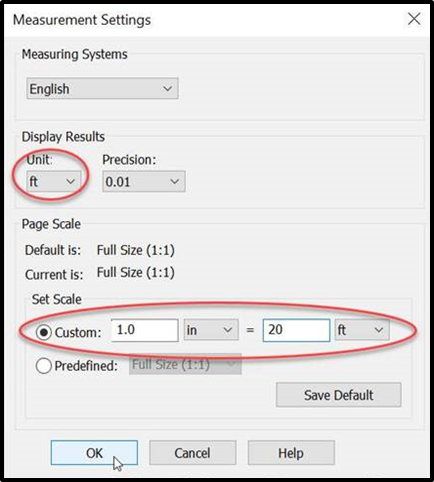 4.  Now that the scale is set, click on the "Measure" button at the top of the page.  This will bring the measuring tools onto the far-left side of the window. The first option is the line measure tool (highlighted in blue on the example below), click on that icon. Next, left click on the starting point of where you would like to measure, move your mouse to the end point (you do not need to hold the mouse) and left click. The distance will appear in the upper left corner (circled in red in the example below). You can compare the measured number to what is shown on the plat to verify the drawing was uploaded "to scale."

For general questions about the ePlans process or measuring tool, call 703-222-0801, option 2, TTY 711, or email staff.