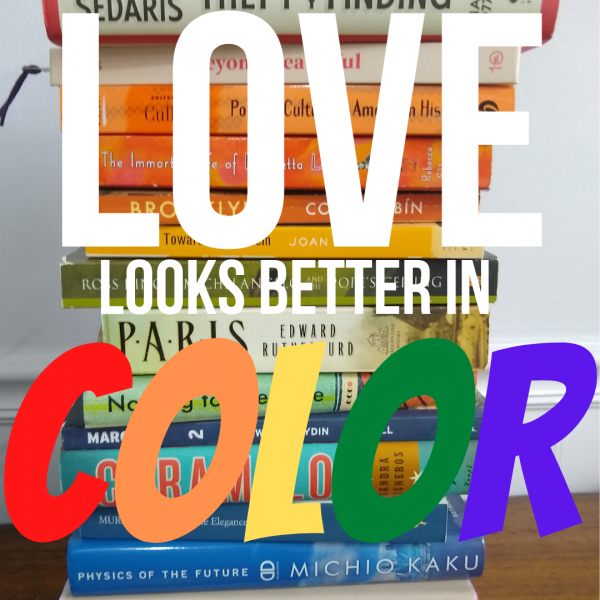 Celebrate Pride Month with Recommended Reads for Ages 10-14 Available in Fairfax County Public Library's Digital Collection.
---
By Rebecca Takacs, FCPL Youth Services Librarian
---
As tweens in grades five through eight approach young adulthood, many seek good reads with fresh and relevant stories. For kids reaching that age today, queer characters are showing up more and more in award winning books. One reason for the popularity of these LGBTQ+ books is that they include a diverse range of individuals, providing tweens and teens the chance to see themselves in the pages of a book — or to experience lives different from their own.
Reading experts say it is critical that teens, tweens and children of all ages be exposed to "mirror" books — books that reflect something familiar to them. Reading about characters who look, sound or act the way they do feeds a sense of self-worth. To understand the world around them, kids should also read "window" books — books that show them people, places or perspectives they might not otherwise encounter or learn about. Beyond providing a "mirror" or "window," a good book must also offer an entertaining story.
This list features 12 titles that are fun, new, critically acclaimed, and centered on LGBTQ+ characters. All of these fiction books are recommended for ages 10-14, published in 2019-2020, and available as eBooks in Fairfax County Public Library's digital collections.
Rahul, a gay indian-american boy, wants to be the best at something. In this charming story he navigates middle school and the search to discover who he is.
Hazel is a book-lover who has to look outside of books for the answers to life's big questions.
In the midst of upheaval, Lydia is paired with with a stinky, misbehaving pup with a mysterious past. Who is the one being rescued?
Martin is a math whiz with a fabulous drag queen alter-ego. Life is complicated. Can he be brave enough to bring his two worlds together?
Sunny receives a new heart and makes herself a "New Life Plan." Then, as with most good plans, life gets in the way.
The Fletcher brothers have a wacky year and come to discover that sometimes what you least expect turns out to be most important.
Celi's life is changing along with her body as she looks for the courage to be who she wants to be.
Kate and Tam are a cheerleader and a jock who see beyond the stereotypes to find each other and themselves.
9. Rick by Alex Gino
Rick is a new middle schooler who finds himself questioning old choices and looking for self-worth and acceptance.
Cady has had an unsteady life, but now she's in a place where she wants to belong. When trouble appears, she has to gather herself and her new friends to try to save the day.
Will Bett and Avery figure out how to become family? This laugh-out-loud funny story is written by two excellent authors and told completely via emails and letters.
Riley's life is sad. His mother is missing, and he has a secret that others whisper about. This book weaves magic, mystery and the power of wishes into a story about finding your "heart's desires."
More LQBTQIA+ Reads for All Ages
Use these FCPL catalog record sets and OverDrive collection to find more titles featuring LGBTQIA+ characters, subjects and creators:
Mirrors and Windows
To learn more about what the reading experts have to say about "mirrors" and "windows," visit DiverseBooks.org, read Violet J. Harris' "In Praise of a Scholarly Force: Rudine Sims Bishop" journal article, and take a look at this Diversity in Children's Books infographic.