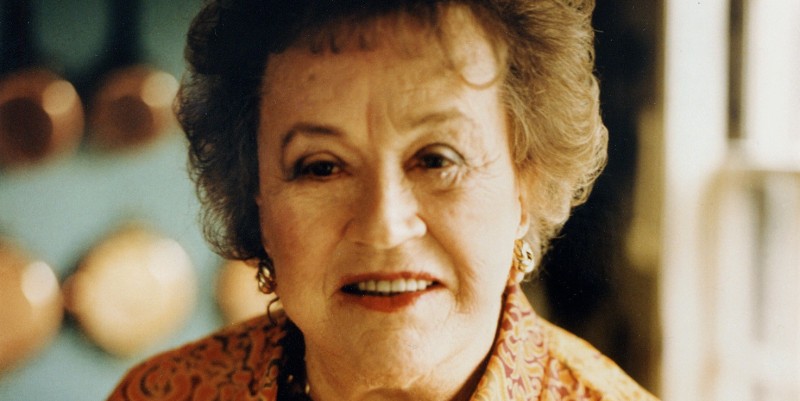 Learn or expand baking skills with Julia Child's videos, and feel a little better.
---
By Andrea Spira, Great Falls Library Branch Manager
---
Benefits of Baking
It has long been acknowledged that the act of baking has meditative and therapeutic effects on the mind and spirit. Measuring, mixing, kneading, monitoring progress — all take patience, require attention, and thrive in an atmosphere of calm. Bakers have to be present in the moment; they have to be mindful.
Baking gives us a sense of control in times when we feel out of control. And it is a creative process usually resulting in something delicious that feeds and nourishes the people we care about, providing a sense of accomplishment and purpose.
America's National Stay-at-Home Pastime
It seems today's at-home, self-isolating America has embraced the Zen of baking. In particular, bread baking and the edible, carbohydrate comfort it affords in uncertain times. This baking surge makes perfect sense. We are home. We have time. We are stressed. We are worried. We have to feed ourselves and our loved ones. We want to feel better. Baking provides an outlet for those feelings and energy, helping center the mind and promote a sense of calm.
Brag photos and videos of rustic golden-brown homemade loaves are popping up everywhere online, from Facebook and Instagram to YouTube and Twitter. Virtual communities are forming around how to make your own sourdough starter, and neighborhood supermarket yeast alerts are now a thing because, as Americans head into the kitchen, yeast is flying off the shelves almost as fast as toilet paper. What to do? People are baking and people are sharing, but that all-important yeast is hard to find!
Bake with Julia Child
Fortunately, baking isn't restricted to crusty loaves. Yeast or no yeast, baking's therapeutic benefits are only a click away. Fairfax County Public Library cardholders can join the craze by taking a master class in baking under the tutelage of America's favorite at-home chef, Julia Child.
Log in to FCPL's online resource Access Video on Demand: Master Collection with your library card number to explore all 16 episodes of Julia's iconic series, Baking with Julia. Stream one episode or binge them all. Episodes include: Pecan Sticky Buns and Brioche Pockets with Julia and Nancy Silverton; Sicilian X Cookies and Focaccia with Julia and Nick Malgieri; and Muffins, Scones, Soda Bread and Popovers with Julia Marion Cunningham.
So get baking, Fairfax County! Join America and Julia, and let the Zen of baking help you feel just a little bit better. If you're in need of more inspiration, instruction and recipes, turn to the digital cookbooks in the library's collection.
Access Video on Demand: Master Collection offers thousands of videos from around the world, including: Oscar, Emmy, and Peabody Award-winning documentaries; how-to programs that make life easier and richer; top-quality performances spanning the arts; biographies of history-makers past and present; and more.