Introducing Branch Out Magazine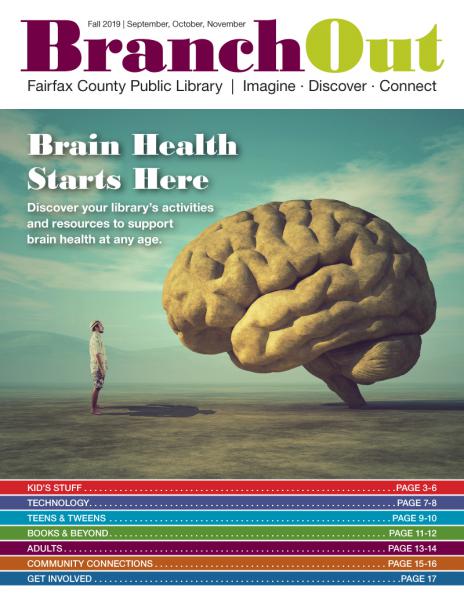 Now available in library branches and other public Fairfax County Government locations throughout the county, the library's first ever quarterly publication is designed to help community members make the most of Fairfax County Public Library (FCPL) resources and services. Each quarter will feature a unique theme through which library events, technology, collections, databases, activities and more can be discovered and explored. Full listings of branch events are available online and in each branch.
The inaugural issue of Branch Out magazine — the fall 2019 issue covering September-November — focuses on the importance of brain health, containing a wealth of information about the many ways people can improve their cognitive fitness and how the library's services and programs can support those efforts at every age. 
Keep reading for an introduction to the Branch Out: Brain Health content, then visit a library branch to pick up a copy of the magazine.
What Are You Doing to Keep Your Brain Healthy?
The library can connect you to activities and information for vibrant brain health.
Take Control of Cognitive Fitness
Our brains continuously change and develop throughout our lives. At no time do the brain and its functions just hold steady. With age and activity, some cognitive functions become weaker while others improve. And although the passing of years is out of our control, we can have some effect on how they impact our brain health.
The inaugural issue of Branch Out looks at the many ways the library can play a major role in connecting you to the activities and information you need for vibrant brain health — from things you can do now to lower the risk of cognitive loss as you age to starting children on the path to a healthy brain and much more.
A Good Start in Life
By the time children are six years old, their brains have already reached about 90% of adult size, according to the National Institutes of Health. To give infants' and children's brains a good start in life during this critical period of growth, there are four things you can provide: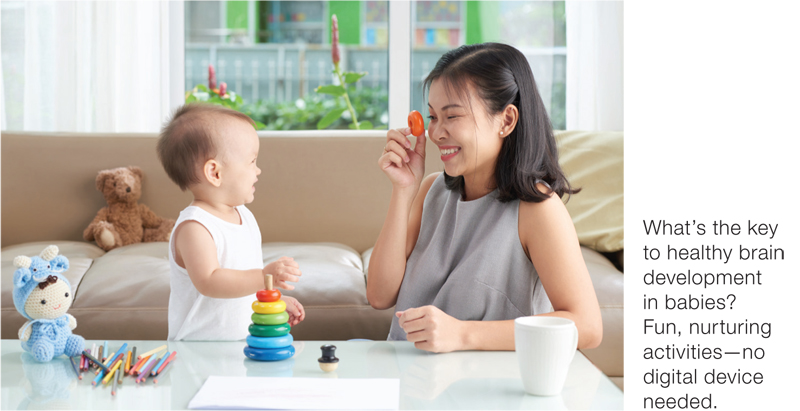 Responsive, nurturing, positive experiences.
Fun activities.
Nutritious food.
Active engagement with the world around them (and less screen time, as recent studies have shown).
Library resources and programs can support children of all ages. For more information about children and teen programming and resources that support brain health, read pages 3, 5 and 9 in the magazine.
Exercising Your Brain
Like all muscles, the brain requires regular use and stimulating activity to stay fit, and reading is good exercise for brains at all ages. In a study published in September 2012 by the Stanford Report, Stanford researchers discovered that blood flow in the brain increased during a close reading of Jane Austen's books and determined that "paying attention to literary texts requires the coordination of multiple complex cognitive functions." Other types of reading increased blood flow in different areas of the brain, and researchers suggested that each style of reading may create distinct patterns in the brain that are "far more complex than just work and play."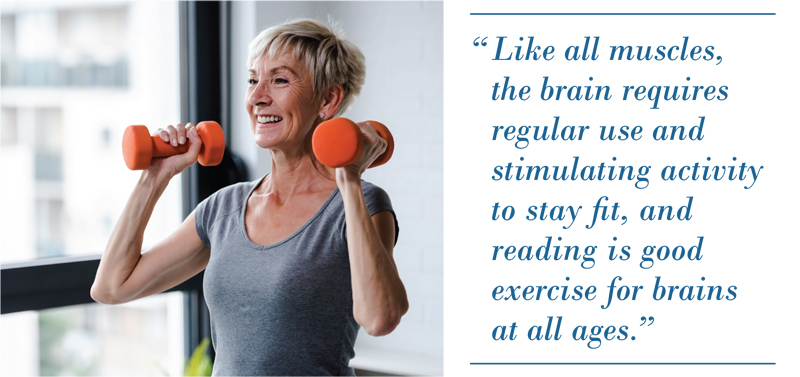 Mentally challenging activities like reading may also play a role in reducing the risk of Alzheimer's and dementia. Studies suggest that engaging in activities you enjoy may help maintain well-being as you age, with lower rates of dementia found among people who staysocially active, according to the National Institute on Aging.
Aerobics and weight training are known to have benefits for brain function, but mind-body activities such as yoga and tai chi seem to have cognitive benefits as well. Researchers have also found that the brains of long-term meditators, at age 50, were an estimated seven and half years younger than the brains of non-long-term meditators at age 50. In that 2016 study, Eileen Luders, Nicolas Cherbuin and Christian Gaser concluded that meditation may protect against age-related brain atrophy. The library can help with cognitive fitness in many ways. Learn more about them—as well as AARP's five pillars of brain health—in the inaugural issue of Branch Out magazine.