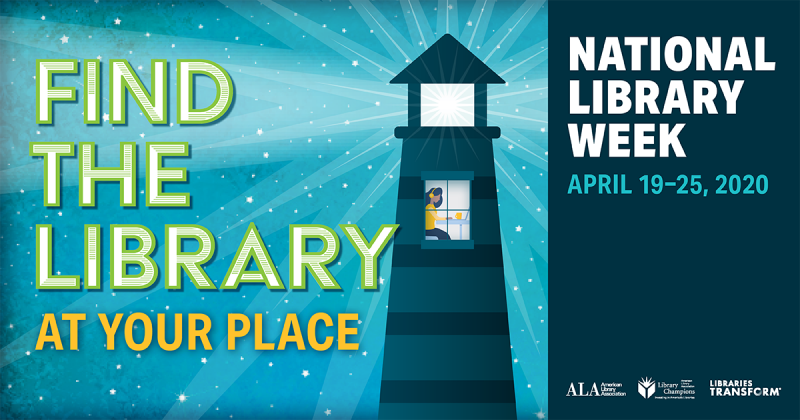 Find the library at your place this National Library Week April 19-25
This week, Fairfax County Public Library invites all community members to find the library at their place by visiting its Library Services During Closure guide to access virtual services and resources. While the library's physical spaces may be temporarily closed due to COVID-19, residents can discover expanded eBook and audiobook collections, online storytimes, virtual workshops and book discussions for adults, digital events for teens and much more — all from home.
In times of crisis, libraries respond to their communities' needs in innovative and inspiring ways. Throughout the coronavirus pandemic, libraries continue to make a difference in people's lives by providing electronic learning resources, online programming sessions and more ways to keep your family informed and engaged. At Fairfax County Public Library, cardholders can access a wide array of virtual services:
April 19-25, 2020, is National Library Week — a time to highlight the valuable role libraries, librarians and library workers play in transforming lives and strengthening communities. This National Library Week, you can show appreciation and support for your library by visiting our website, catalog and digital collection, following us on social media, and using the hashtag #NationalLibraryWeek. Find FCPL on Facebook, Twitter and Instagram.
For those who don't yet have a library card, an online library card application will provide a temporary card number. When the library reopens, new applicants can visit their local branches to pick up and validate physical cards.
The original theme for National Library Week, "Find your place at the library," was chosen by the American Library Association (ALA) months ago before the emergence of a global pandemic would force libraries to close their buildings. In response to these rapidly-changing times, the theme was revised to "Find the library at your place" to bring attention to how libraries are open for business online, offering the electronic services and digital content their communities need now more than ever.
Those services include internet access, too. While Fairfax County Public Library's Wi-Fi network was built for internal access, we have increased branches' signals where possible to provide limited outside coverage 6 a.m. to 10 p.m. daily. Areas closer to the branches should provide the chance for Wi-Fi connectivity — whether you're continuing educational coursework, keeping your business running, responding to the census or completing other online tasks while social distancing.
First sponsored in 1958, National Library Week is a national observance sponsored by ALA and celebrated by libraries of all types across the country each April.