Please Note: All Fairfax County Public Library branches are closed until further notice, and all library-sponsored events and programs are cancelled through April 12. In the meantime, we still have tons of digital resources available and Wi-Fi will be available in branch parking lots during normal operating hours. For more information, visit
research.fairfaxcounty.gov/unlimited
.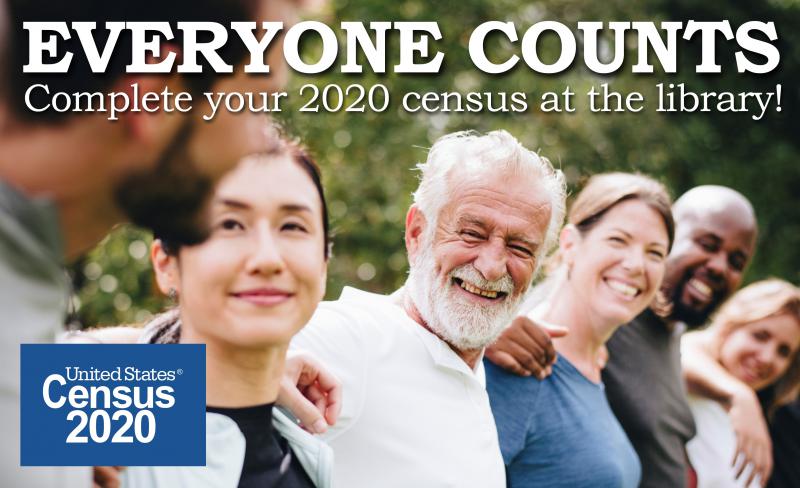 Census Day is One Month Away — Are You Ready to Be Counted?
Did you know that more than $675 billion in federal funds are distributed annually based on data collected by the census? These funds help pay for education, infrastructure, healthcare, housing, emergency services and other public needs.
For every Northern Virginia resident who is not counted in the 2020 census, our region could lose $1,200 per year in federal funds — that's $12,000 over 10 years!
Your census response will directly benefit you and other Fairfax County residents, and all personal information collected is 100% confidential. Invitations to respond to the census will arrive in the mail in mid-March. The questionnaire must be filled out based on residency on April 1, 2020 — Census Day — and it can be completed online, on paper or by phone.
25% of U.S. housing units do not have internet access, but Fairfax County residents can count on the library for access to nearly 400 computers and free Wi-Fi (available during open hours) to complete the 2020 census online.
The 2020 census is the first to be conducted online in its 230-year history.
Check the library's online calendar (search "census day") for announcements about Census Day events and opportunities to access additional public computers and receive assistance completing your questionnaire at our branches. Plus, attend the first lecture in the Common Ground series to explore surprising stories of the census' past, from the impact of the Civil War to the challenges of early computer systems. "Making Sense of the Census" takes place Wednesday, March 18, 7 p.m. at Thomas Jefferson Library and will be led by Chris Martin, historian at the U.S. Census Bureau. Count on a revealing look at the why's and how's of accounting for the nation's population.
Learn more about the 2020 census at fairfaxcounty.gov/topics/census.