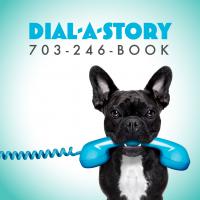 Beginning today, Fairfax County Public Library (FCPL) is offering a Dial-A-Story service. Customers can call in and listen to stories read by FCPL librarians. Stories are offered in both English and Spanish.
This service enables parents and caregivers who are limiting screen time or who don't have access to the internet to view Storytimes. Stories are geared to children ages 3 to 5 and will be added in two-week rotations.
Dial 703-246-BOOK (2665) now to listen! The initial prompt is in English and then a caller presses "2" for Spanish.