More Than 1,000 Books Available for Check-Out 
In March, Fairfax County Public Library introduced a collection of more than 1,000 all-in-one read-along books aimed at developing reading skills in children. The books are available at all 23 branches of the library in Fairfax County, which will be the first system in Virginia to have the all-in-one read-alongs.
"Read-along books bring the words on the page to life for children," says Tina Mraz, early literacy outreach manager for Fairfax County Public Library. "They give children the opportunity to observe the narrative structure of stories, understand language and learn new and rich vocabulary. It also gives them the opportunity to hear their favorite books multiple times, fostering a love of reading."
Called VOX™ Books, the read-along books are part audio book and part print book. Each book has a permanently attached reader with simple controls that plays an audio recording of the corresponding book with the push of a button. There's no need for computers, tablets or CDs.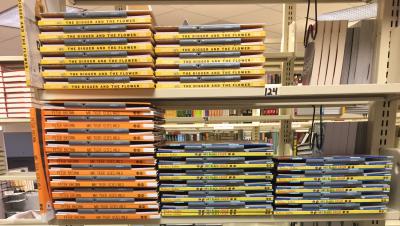 The library has purchased 1,158 of the read-along books, including 64 different titles—22 of which are nonfiction and five of which are in Spanish. Each branch of the library will initially have 50 to 60 copies of these readers available to customers.
The collection includes popular children's picture book titles like Goodnight Moon, The Adventures of Beekle: The Unimaginary Friend, Cloudy with a Chance of Meatballs, and Click, Clack, Moo: Cows That Type. There are also Spanish language versions of five titles, including Nancy La Elegante (Fancy Nancy) and Si Llevas un Ratón a la Escuela (If You Take a Mouse to School). Early reader nonfiction books are also available on subjects like airplanes, diggers, frogs, butterflies, chocolate and crayons.
View all VOX™ Books in the library's online catalog. The library offers additional digital read-along resources through its subscriptions to two online databases. Early World of Learning offers read-along stories in English and Spanish. Overdrive also offers more than 100 read-along titles as eBooks.
Additional Resources on Early Literacy from Fairfax County Public Library: