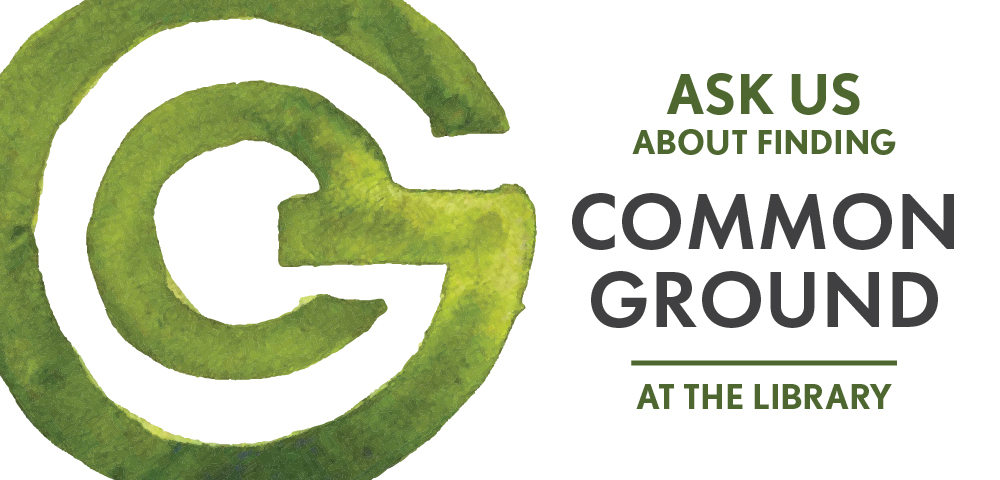 Throughout 2020 Fairfax County Public Library's "Common Ground" campaign will explore the concepts of community, civic engagement and American politics to help county residents rediscover that we have more in common with each other than we realize.
"The country is currently focused on ideological differences rather than the many values that we share. The library is for the entire community and encourages civil discussion on tough topics," said Library Director Jessica Hudson. "We invite the entire Fairfax community to join us to remember how to listen to differing viewpoints and look for the common ground, which is almost always there."
Four system-wide events are the core of the campaign, with library branches planning localized lectures and workshops. Selected books, articles, databases and websites will be shared throughout the year to enhance the exploration of issues on which community members and Americans in general can find common ground. Registration is appreciated for all events.
Making Sense of the Census (postponed) Chris Martin, historian at the U.S. Census Bureau, will share surprising stories of the census' past, from the impact of the Civil War to the challenges of early computer systems. Count on a revealing look at the why's and how's of accounting for the nation's population.
A Political Party (postponed) Bill Schneider, a U.S. political analyst dubbed "the nation's electionmeister" by The Washington Times, will provide an overview of the major U.S. political parties. No cakes or lampshades required.
The Electoral College: Necessity or Nuisance? Thursday, May 14, 7 p.m. at Kings Park Library. Dr. Jeremy Mayer, associate professor in the Schar School of Policy and Government at George Mason University, will demystify the electoral college and explain its role in U.S. elections.
Redistricting, or Why is My Congressional District Shaped Like a Seahorse? June (date and location TBD) This workshop will focus on the complexities of redistricting: What is it? Who draws the lines? When does it happen? Why is it such a big deal? 
To find more Common Ground events filter by the "Common Ground" category in the library calendar.