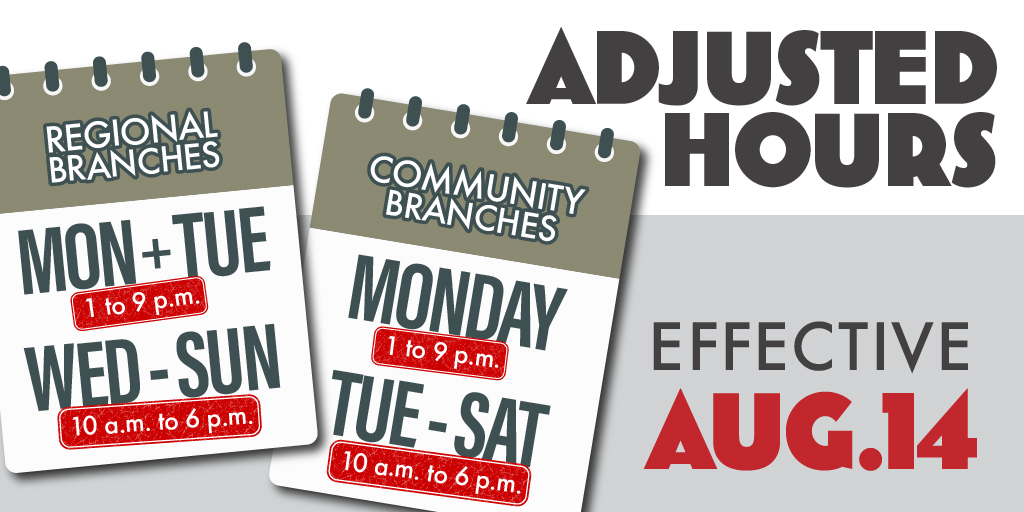 Effective Aug. 14, all regional and community Fairfax County Public Library (FCPL) branches are moving to a modified schedule due to ongoing staff recruitment challenges.
The modified schedule is:
Regional branches:
Monday and Tuesday: 1 - 9 p.m.
Wednesday - Sunday: 10 a.m. - 6 p.m.
Community branches:
Monday: 1 - 9 p.m.
Tuesday - Saturday: 10 a.m. - 6 p.m.
This schedule requires only one shift of staff a day, allowing FCPL to maintain all open days at its branches.
View a system map and listing of regional and community branches.
The Access Services branch located at the Fairfax County Government Center will maintain its usual hours Monday through Friday, 8 a.m. to 5 p.m.
FCPL is always available online! Search our digital offerings via Libby, use your library card to access thousands of streaming videos or explore ten other ways to enjoy your local library from home.
These hours will be in effect indefinitely.